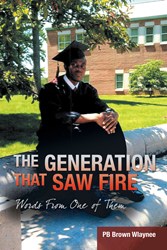 Staten Island, New York (PRWEB) August 12, 2013
How far would you go to protect your civil rights?
This is precisely the question that inspired PB Brown Wlaynee.
His new book, The Generation that Saw Fire, offers his firsthand account and personal experiences accumulated during the violence, political injustices and civil war in Liberia.
The book aims to give a voice to those victims of violence and war who have suffered because of a greedy and cruel few. The author hopes the book will give those who relate to the story a sense of inspiration as well as expose the realities of situations like this to readers beyond their borders.
Additionally, Wlaynee examines his thoughts on topics of politics, morality and philosophy.
"My hope is that by sharing my journey from Africa to the United States, it will inspire readers to recognize and be thankful for their peaceful countries," Wlaynee says. "We should learn to appreciate our stable society, even when things are rough economically."
It makes a strong case that war is not the answer to any social injustices except when there are no other possible ideas on the table.
The Generation that Saw Fire strives to expose readers to the challenges and daily life of differing cultures.
The Generation that Saw Fire
By PB Brown Wlaynee
ISBN: 978-1-46687-784-6 (hardcover), 978-1-46697-785-3 (softcover)
Hardcover price: $28.30
Softcover price: $18.30
Available at amazon.com, barnesandnoble.com, trafford.com
About the author
Born in Liberia, PB Brown Wlaynee attended high school until his life was interrupted by a civil war in his nation. He lived behind rebel lines without becoming a part of the violence and eventually immigrated to the United States. In the United States, he graduated from the College of Staten Island and Kingsborough Community College. He is a member of UNA-USA and works for a security firm. Currently living in New York, he is working on a charity foundation to help children around the world affected by war.