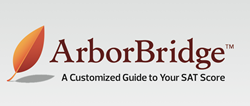 "Understanding why you are struggling is the most important step for improving. Once the cause of your problem is identified, a student can begin to take steps to improve."
Santa Monica, CA (PRWEB) August 21, 2013
ArborBridge specializes in delivering convenient and effective online tutoring and test preparation to its clients across the globe. Their tutors hail from the top universities in the US, and have been trained specifically in providing the most efficient and professional test preparation to students through their online classroom. The ArborBridge model is based on an individualized assessment of students' strengths and weakness, which is used to develop a personalized curriculum.
ArborBridge is now offering their personalized curriculum to students in the form of a free downloadable SAT study guide. Based on the practice test scores submitted online, the guide provides insight into students' strengths and weaknesses along with tips and tricks on how to better his or her score.
"Taking a practice test is one of the most important steps in beginning any test prep program, and initial performance can reveal how much work will be needed to put in to maximize scores," said Sallie Oto, ArborBridge's Director of Programs. "Most importantly, taking a practice test can expose specifically what is necessary to work on to achieve success."
However, most students don't have the knowledge or experience necessary to look at their practice test results and formulate a study plan. This is where ArborBridge's customized guides step in.
Based on scoring patterns, these guides work to determine the specific areas a student will need to work on, whether they be content or testing related for each of the three sections of the test. The guides include information on why a student has struggled on the test.
"Understanding why you are struggling is the most important step for improving," said Kate Ballard-Rosa, ArborBridge's Director of Instruction and creator of the study guides. "Once the cause of your problem is identified, a student can begin to take steps to improve."
"For example, a student with a low math score may struggle with SAT math questions that don't ask for a value, but ask for a possible value," explained Ballard-Rosa. "These questions require that you have a strong grasp of math rules and principles, many of which students may not have ever covered."
The guide also provides specific information on what a student will need to do in order to score higher such as; tolerated number of incorrect answers, specific material to be learned, and suggested study time. Additionally, the guide offers tips and studying strategies for how to best use your time to improve your score such as question types to avoid and important concepts to review.
Taking a practice test and then analyzing your score through one of ArborBridge's guides offers students a way to both understand and improve their testing performance though personalized direction. Students interested in downloading ArborBridge's SAT Study Guide can visit, http://arborbridge.com/freeguide/, to request their copy.
About ArborBridge
ArborBridge has helped hundreds of students from 20 different countries maximize their potential score on the SAT and ACT. Their students have seen SAT point increases exceeding 600 points and gained admission to top colleges like Stanford, Cal Tech, NYU, Columbia, Penn, and Georgetown.
ArborBridge tutoring is live, one-on-one, and delivered online by elite American tutors using ArborBridge's proprietary SAT/ACT curriculum, specifically designed for online tutoring. ArborBridge was founded in 2011 by Tim Urban and Andrew Finn, who previously founded Launch Education Group, a premier in-person tutoring firm with offices in Los Angeles and Manhattan.