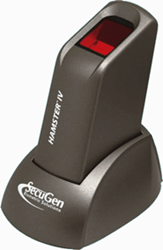 (PRWEB) August 20, 2013
The days of retailers remembering their passwords for logging in to their retail software are over. The developers of GiftLogic point of sale software have enhanced the software to include fingerprint integration. This allows for fingerprints to act as a digital password while interacting with the POS system in retail stores. Unlike a traditional password, which is commonly made up of a series of numbers and letters for "maximum security," a digital fingerprint password cannot be lost, stolen and most importantly forgotten. Fingerprint password integration is traditionally used for the purposes of biometric authentication. However, implementing fingerprint passwords in retail gift stores can help reduce the overall hassles associated with factors like password overload in that there will be one less password that must be remembered. Additionally, fingerprint integration decreases the risks of a security breach and improves accountability. Now be able to tell exactly who accessed a system at any particular moment because every person's fingerprint is unique unto themselves.
Fingerprint Integration with GiftLogic point of sale can be used for a number of different functions throughout retail stores such as register logins, management overrides, time clock authentication and gift registry. Perhaps the most important benefit, however, is that the system is more convenient and intuitive to be used by almost any user regardless of how familiar they are with computerized systems.
The fingerprint scanner manufactured by SecuGen known as the Hamster IV fingerprint scanner has a wide variety of different features that are designed to make life easier. For one, it is an FBI certified PIV single finger capture device. In layman's terms, it means that the device has been certified to current privacy and security standards and can capture fingerprints from one individual at a time. It is also already compatible with SecuGen and third party MINEX certified algorithms, adding an increased level of security and stabilization.
The base unit itself is made of high-quality and durable materials that are designed to be maintenance free. The optical finger print sensor has an ultra-high native resolution of more than 1000 dots per inch. Despite that high quality, encryption of fingerprint templates is also included. The scanned fingerprints can never be used to reconstruct fingerprint images by a third party.
The unit is designed to be "auto on," which means that it automatically turns on when it detects a finger on the sensor. The fingerprint scanning area is resistant to scratches, corrosion, and other types of maladies. It sports a removable weighted stand, an integrated finger guide, and even a USB connection.
The SecuGen Hamster IV includes an optical sensor that lasts 60,000 hours. It has an operating temperature of between zero and 40 degrees and comes with a one year limited warranty.
The representatives at GiftLogic are proud of their point of sale software and have said that "fingerprint integration can dramatically change transaction time for your clients and security for your business, giving your company the latest innovations in our industry." With so many different benefits available from one system, it is easy to see why integrating fingerprint integration with point of sale software is right for retail stores across America.