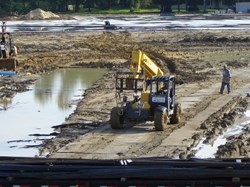 "If a bird can walk on it, we can mat it."
Killdeer, ND (PRWEB) August 13, 2013
August is National Water Quality Month according to the U.S. Environmental Protection Agency. Quality Mat, a leading manufacturer of bog and ground protection mats for improving the work conditions in marshes, swamps and bogs, is celebrating all month long with a series of educational posts on both water quality and water safety.
Ways to Participate:
There are many ways both individuals and organizations can participate in Water Quality Month. The EPA suggests water conversation methods such as taking shorter showers or switching to showers from baths for the month. Be conscious of over watering your lawn, and use rain barrels to collect water for your lawn and garden.
Water Safety
Quality Mat's Joe Penland Sr. advocates the use of bog mats in marshy areas, to not only protect the environment, but also the safety of workers. Additionally, water and erosion are top causes of land degradation, a typical result of heavy construction, which is preventable with a stable work site built with swamp and bog mats.
"If a bird can walk on it, we can mat it," says Quality Mat founder, Joe Penland Sr. One of the many environmentally friendly benefits of the non-treated wood bog mats is the ability to be laid out over water, and evenly distribute weight over great surfaces, similar to a snowshoe.
Quality Mat produces a variety of ground protection mats, which helps to provide a stable work surface that reduces the erosion and debris that can enter the waterways in a messy worksite. In the pipeline construction, before work begins a level surface can be created in boggy areas using pipeline and bog mats and a silt fence is installed to keep streams and waterways safe from erosion. Quality Mat also offers shoring and cribbing timbers to support retaining walls or other construction purposes.
Join Quality Mat Company
Quality Mat Company will be releasing educational water awareness safety and quality tips throughout the month of August on the Quality Mat blog and social media sites. Find out more about Quality Mat bog and ground protection mat manufacturing.