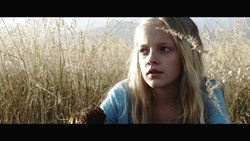 ...the jury deadlocked on five awards, including Best Film...
Glendale, CA (PRWEB) August 11, 2013
The 2013 Winner of the BEST FILM for the 168 Film Festival is "ReMoved." The film was produced by Carpinteria, California-based Nathanael Matanick and Christina Matanick and directed by Nathanael Matanick, who also won for Best Editor and Best Make Up and Hair. ReMoved Trailer
"ReMoved" is a poignant film about a girl's journey through extreme hardships in the foster care system and is based on Hebrews 12:2's explanation of Jesus Christ's motivation for enduring the cross. The film compares the vision of joy and hope that emerges as the main character, Zoe (Abby White) proves willing to navigate the shame and pain of her life to move toward healing and restoration. Inspired by her own Foster Parent Training, the film was written by Christina Matanick and lensed by Tony Cruz. "ReMoved" won four awards from thirteen nominations, including Best Film, Actress, Editor, Makeup and Hair.
As the Best Short Film of 2013, Matanick receives the Grand Prize from presenting sponsor EchoLight Studios and their new CEO, Rick Santorum. EchoLight will partner with the winning short film artist to produce a feature film with a budget up to $1 Million and not less than $250,000.
The 2013 winner of the BEST INTERNATIONAL FILM is "Freedom Road," produced by Diane Vermooten and Ardeen Munnik. Shot in Cape Town, South Africa, the film explores divisions of race, of wealth and of the "great sins" of murder and torture vs. smaller sins of rage and alcoholism as a result of Apartheid. Based on Exodus 30:15, a directive about the cost of atonement to both the rich and the poor, the film is based on historical accounts of the South African Truth and Reconciliation Commission, which gave South Africans an opportunity to confess their sins, and to apply for amnesty. The film garnered six wins, including Best International Film (Diane Vermooten, Ardeen Munnik), Best Director (Shane Vermooten), Actress (Sylvia Ncediwe Mdunyelwa-Kobus), and writer/designer Diane Vermooten's three wins for Screenplay-Drama, Scriptural Integration-how well the story is founded on the scripture and Production Design. "Freedom Road" Trailer.
"The depth of these films is astounding, especially considering the short 168 hour production window. This is why the jury deadlocked on five awards, including Best Film. Only after a re-vote were we able to discern the winner from the wondrous tapestries woven by these artists, my hat is off to them." said 168 founder and executive director John David Ware.
Production on the grand prize feature film is expected to commence in 8-10 months.
The Award Winners and Locations are:
Best Comedy - Scapegoat
John DeVries, Howard James Fyvie, Nevil Sandama from South Africa
Best Write of Passage Spotlight Film - New Year's Resolution
Jason Walter Vaile, Brandon Carmichael, Mark Blitch, from Texas
Best Documentary - Make
Arthur Delgado from Los Angeles
Best Director - Freedom Road
Shane Vermooten from South Africa
Best Actor - Nate Parker - LU from Los Angeles
Best Actress - Sylvia Ncediwe Mdunyelwa-Kobus - Freedom Road
Best Supporting Actor - Kevin Sizemore – Heartfall from Los Angeles
Best Supporting Actress - Saye Yabendeh - LU
Best Screenplay – Drama - Freedom Road - Diane Vermooten
Best Screenplay – Comedy - Scapegoat - Matt Raubenheimer, Daniel Morcos, John DeVries, Howard James Fyvie
Best Scriptural Integration (Use of Foundational Scripture) - Freedom Road - Diane Vermooten
Best Cinematography - Ferre - Chris Wiegand from Texas
Best Editor - ReMoved - Nathanael Matanick
Best Sound Design - LU - Andrew Scott Duncan
Best Original Score - LU - Kevin MacLeoud, Gregory L. Brown
Best Production Design - Freedom Road - Diane Vermooten
Best Make up & Hair - ReMoved - Nathanael Matanick
Best Student Film - What it Takes - Armin Hottmann, Dereje Getahun from Ethiopia
Evangelista Award (Evangelical Film) - Pressed - Beau Chevassus from Enumclaw, Washington
Best "Making Of" Film - Making of 73 "Lost in the Dark" - Dana Newell from Australia