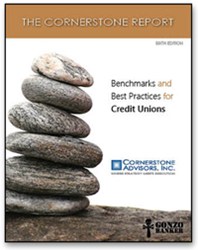 "If credit unions continue to gain high-value market share while scaling their efficiencies, adopting industry best practices, and reinventing their delivery, they will be financial services contenders in the years ahead."
Scottsdale, Arizona (PRWEB) August 12, 2013
Analysis of an extensive benchmarking study of 62 credit unions with assets of more than $250 million conducted by Cornerstone Advisors, Inc., concludes that while overall performance by credit unions has generally recovered since 2008, significant opportunities remain for credit unions to improve their member support channels.
According to survey results, published in July as The Cornerstone Report: Benchmarks and Best Practices for Credit Unions, the median credit union opened 1.8 new accounts for each one that it closed, up 20% from 2008. Yet, even with the new member focus, median products-per-household dropped 28%, to 2.52.
"Credit unions for the most part are reporting improved bottom lines," said Scott Sommer, president and chief executive officer of Cornerstone Advisors. "The general theme we're seeing from these numbers, however, is that with a bit more focused effort, they could be experiencing even better returns as a result of more satisfied members."
Among key study findings:

Combined Internet and mobile log-ins have surpassed in-person teller transactions, revealing a distinct shift in member service delivery channels from brick to click.
Active mobile users at median credit unions hold nearly 7 percent of all checking accounts. The high performance level (75th percentile) was nearly 20%.
While median credit unions earned roughly $150 per year in fee income from checking accounts, there remains an $85 gap between high and low performers, illustrating significant room for improvement at the lesser performing credit unions.
Only 16% of consumer loan applications are originated through the Internet at the median credit union.
Median mortgage loans per mortgage origination full-time equivalent (FTE) per month came in at just 4.4. While this is a slight increase since 2008, it trails the high performing credit unions, which reported 6.4.
Technology spending as a function of size has decreased slightly from 2008 to .0354% of assets. The only technology spending showing any growth was Strategic Systems, which consists of specialized applications in loan origination, branch automation, analytics, document imaging, and investment management.
"With vast gaps between high and low performers in lending productivity, delivery channels and other measures, there is so much room for improvement," noted Sommer. "If credit unions continue to gain high-value market share while scaling their efficiencies, adopting industry best practices, and reinventing their delivery, they will be financial services contenders in the years ahead."
# # #
Founded in 2002, Cornerstone Advisors, a management consulting firm focused exclusively on mid-size banks and large, progressive credit unions, provides services in the areas of: Strategic Planning, Benchmarking and Best Practices, Process Reengineering, Technology Assessment and Planning, System Selection and Conversion Management, Vendor Contract Negotiation, Risk Management, and Merger and Integration Assistance. The Cornerstone team founded industry renowned GonzoBanker and authors The Cornerstone Report, a series of authoritative benchmarking and best practices studies for both mid-size banks and credit unions.