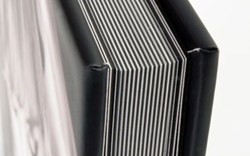 "DIY Wedding Albums Available Now in Canada"
Toronto, On (PRWEB) August 14, 2013
Today marks the launch of BrideBox Canada wedding albums creation service, a design platform and full range of wedding albums for modern do-it-yourself couples. Leveraging a unique combination of an intuitive, inviting workflow and top quality production, BrideBox features a simple design interface, manual color correction by a photo editing professional and a range of high-end options for the finished product including leather binding and flush mount albums, delivering to the modern bride quality, cost savings, design control and speed like never before. Prior to the introduction of BrideBox, albums of this quality have only been available from professional photographers at premium pricing and with timely and complex creation processes; making BrideBox a first of its kind of offering in Canada.
In less time than the reception, couples can create a wedding album that recalls all of the magic and happiness of their wedding day. The free, downloadable design software available at http://www.BrideBox.ca employs familiar drag-and-drop navigation and guides the user through wedding-ready templates, adding photos, effects, text and artwork. Once the album design is finished, a ready-to-print file is auto-uploaded to production, but not before each image is color corrected manually by an editing professional, ensuring the final product is a flawless reminder of the special day. BrideBox uses the highest quality printers, professional photo paper and binding materials in each album, and offers a range of album styles to reflect each couple's personality and budget.
Marina – A luxurious flush mount album, Marina features a leather or photo cover, hand-crafted binding and 20-80 sides. Users have a variety of options to choose from as they customize their album, including leather engraving and pearl paper. Marina is available in three sizes, 10x10, 12x12 and 11 x 14.
Anza – Anza is a classic flush mount wedding album featuring a rich black leather cover in a 10x10 format with 20 or 30 sides. Images are printed on professional photo paper. Text engraving on the leather cover is also available.
Lake – The Lake album is top quality with high-end features and complete flexibility, This unique and affordable wedding album is available in three sizes, 8x8, 10x10 and 12x12 and Lake can be extended to include 20-80 sides. Images are printed in silver halide professional photo paper, ensuring they are crisp and clean.
Mason – A modern and stylish photo book, Mason features thick, completely lay-flat paper and a matte or glossy wrap-around photo cover. Offering 20-80 sides, Mason comes in 8.5x8.5m, and 10x10 sizes.
"A growing trend, couples are receiving digital images as a part of their package from their professional photographer. According to research, nearly half do not order an album from their photographer therefore had no options for a professional quality album. BrideBox was designed for this modern bride who is looking for a high-end album with a do-it-yourself design option," Bryan Passanisi online marketing manager at BrideBox. "Newlyweds deserve the ability to preserve the romance with the best design and materials available without worrying unnecessarily about the costs. BrideBox is a perfect way to collect those memories in a wedding album that lets families relive that day over and over again."
BrideBox is available today, at http://www.BrideBox.ca and will be presented to the public in the upcoming biggest bridal show in Canada, on September 6, 7 & 8, Canada's Bridal Show Metro Toronto Convention Center (booth # 2429).
About BrideBox
Bride Box is devoted to helping couples design their own wedding albums without sacrificing the top quality materials and photo finishing that mark a professionally produced album. BrideBox combines years of wedding photography expertise and a proprietary process that gives consumers access to products previously only available through photography professionals. The BrideBox line of wedding albums offers unmatched quality, combining the benefits of technology with the skills and individual attention of imaging professionals.