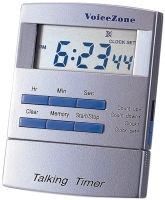 Canada (PRWEB) August 10, 2013
Braille Bookstore, the world's leading supplier of products for the blind and visually impaired, is pleased to announce the release of their 2013 wholesale catalog. Shop owners, merchants and retailers are now able to purchase the same high-end products found at Braille Bookstore for a fraction of its retail price. The wholesale catalog is now live on their sister site BaykelWholesale.com with the company ready to take orders.
With thousands of different products, Braille Bookstore has become the leading supplier of products for the blind. Some of the company's products include talking clocks, hands-on learning braille learning tools, text-to-speech software, digital audio recorders, talking meat thermometers, braille slate and stylus, white canes, labelers, magnets, beeping Frisbees, tactile board games, and even low-vision products such as playing cards with large letters.
The folks over at Braille Bookstore understand the unique needs of individuals living with blindness or less severe forms of visual disability, which is why they offer such an extensive selection of products designed to make life easier. Their hand-held braille label maker, for instance, allows visual impaired individuals to create their own braille labels using a small hand-held device. By labeling everyday items around the home, their quality of life will ultimately improve.
Another popular product offered at Braille Bookstore is a slate and stylus for writing braille. These devices allow individuals suffering visual disabilities to write their own braille. Braille Bookstore offers several different types of slates, including standard plastic, standard metal, jumbo, full-page, labeling, business card, index card and post card. It's important to note that stylus pens are purchased separately with wholesale slate orders.
Of course, these are just a few of the thousands of products available at Braille Bookstore. They've been in the business of producing and selling products designed for the blind for over a decade. In addition to their long line of products, Braille Bookstore even offers a braille printing service for business cards. Owners can send their business cards in for custom braille printing.
Braille Bookstore operates with headquarters located in Canada. Here, they ship and fulfill orders while constantly working to add more products to their site. The company's latest venture involves wholesale products through their sister site at BaykelWholesale.com. It's the same great company that people know and trust with a different name.
"You see, we've created a separate arm of The Braille Superstore to handle all your wholesale needs. Don't worry, we're the same company, with the same products, prices and staff you've come to depend on. But now, thanks to the establishment of Baykel Wholesale, there are more products than ever before. And you can get the information you need in seconds," said Braille Bookstore owner and CEO Danny Farris.
It's important to note that a username and password is required to view wholesale pricing at BaykelWholesale.com. Those who are interested in viewing the prices can reach Mr. Farris and his team at 800-951-1231.