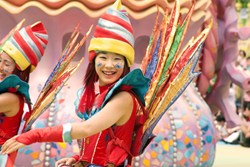 Toronto, ON (PRWEB) August 11, 2013
It's no coincidence that Psy was named tourism ambassador of South Korea in late April. Love him or loathe him, the sunglasses-sporting rapper has become a symbol of the west's fascination with Korean pop music, film and television. But North Americans who've long known names like Samsung and LG are now hungry for Korean culture beyond what makes it to the west, and many are going right to the source! South Korean tourism increased over 13% in 2011-2012.
In between two tourist juggernauts, Korea has long been one of Asia's best kept travel secrets, where cutting edge technology rises out of a dynamic history spanning 5000 years.
Seoul is a capital pulsing with 24-hour shopping and historic sights including Chandeokgung Palace and Jongmyo Shrine. Dining out here is also serious business, making Seoul one of the best cities to partake in some of Asia's most delicious – and noisy – cuisine. A trek out to the Demilitarized Zone has become a rite of passage for any traveller fascinated by the political intrigues of this divided peninsula. Some visitors prefer to see the traditional way of life that lives on in folk villages throughout Korea. The country is also boasts 10 UNESCO World Heritage sites, including the 8th century Bulguksa Temple and Seokguram Grotto.
A visit to Korea is one packed with enough culture, history and beauty to push any thoughts of Gangnam Style far from mind – at least until returning to Seoul!
Asia by Goway is now offering a 30% discount on its 8 Day Korea trip. More than just another Korea tour, this package includes visits to all of the above sights, accommodation, small group touring with English-speaking guides, all transfers and entrance fees, numerous meals and return airfares to Seoul, flying Japan Airlines.
This offer is priced at just US$2285 from Los Angeles, US$2489 from New York, or C$2199 from Vancouver, saving over $800 per person!
Departures also available from other North American cities.
Since 1970, Goway has been providing unforgettable travel experiences to Africa, Asia, Australia and New Zealand, idyllic island destinations and Latin America. Today Goway is recognized as one of North America's leading travel companies for individuals, families and groups to select exotic destinations around the globe. Goway has offices in Los Angeles, Vancouver, Toronto, and Sydney (Australia).
For reservations and information, visit http://www.goway.com, call your Travel Professional or 1-800-387-8850.