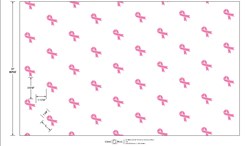 We are honored to do our part in helping other businesses support breast cancer awareness.
Pensacola, Florida (PRWEB) August 12, 2013
Oren International is thinking pink. In honor of Breast Cancer Awareness Month in October, the Pensacola, Florida based paper converter will print the iconic breast cancer awareness pink ribbon symbol, by request, on all butcher paper orders at no additional charge.
Restaurants, grocers, delis and stores who use butcher paper can choose from pink ribbons alone printed on white butcher paper or pink ribbons in combination with a company logo or other branding (logos start little as $2/roll) added to an 18- or 36-inch butcher paper roll. Learn more about branded butcher paper.
"Now is the perfect time to begin planning ways for your company to show support for this important cause which is dedicated to the month of October," said Oren International Founder Alan NeSmith. "We are honored to do our part in helping other businesses support breast cancer awareness." Oren's offer runs through September.
Butcher paper is available in long rolls, or can be cut to specific sheet sizes. It's used in the food service industry to line food baskets, wrap sandwiches and top tables in lieu of linens. Butcher paper is also used to wrap meat, poultry and seafood in grocery, butcher or deli display cases.
Breast Cancer Awareness Month is an annual international health campaign organized by major breast cancer charities every October to increase awareness of the disease and to raise funds for research into its cause, prevention, diagnosis, treatment and cure. The campaign also offers information and support to those affected by breast cancer.
Oren International is a paper converting company headquartered in Pensacola, FL and creates custom paper products for a broad range of industries from food service to medical to manufacturing. Learn more at http://www.oren-intl.com.