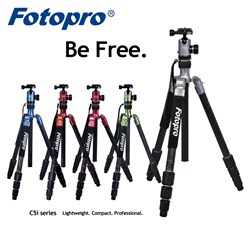 Custom SLR is excited to offer a comprehensive range of camera accessories for photographers and videographers, including a new line of tripods which work with its M-Plate line.
San Francisco, CA (PRWEB) August 14, 2013
After several years of distribution in Europe and Asia, where they won numerous design awards, Fotopro tripods are now available in the United States through Custom SLR.
Fotopro, an international manufacturer of professional tripods, monopods and accessories, and Custom SLR, a Silicon Valley-based manufacturer of camera straps and innovative camera gear, have partnered to bring Fotopro's line of professional and travel tripods to photographers in the U.S.
"The Fotopro line complements our growing line of performance camera gear and accessories," said Ivan Wong, chief operating officer at Custom SLR. "Our M-Plate tripod plates work in conjunction with Fotopro ball heads, and we are excited to offer a comprehensive range of products for photographers and videographers."
Featuring T6 grade aircraft aluminum, eight-layer interwoven carbon technology and high-strength magnesium alloy, these tripods are some of the strongest and lightest in the industry.
Custom SLR will feature a full line of Fotopro tripods and monopod support systems including the C5i series and TT-1 travel tripod kits on CustomSLR.com.
The C5i tripod series comes in a lightweight 3.6-pound package with reversible legs for compact stowing. The kit is equipped with an Arca-Swiss 3D ball head with single-action locking and can be converted into a monopod. The C5i uses an advanced anodic oxidation process, making it wear and scratch resistant. It will be available in five colors: blue, green, red, orange and titanium, and includes a portable carrying case. Suggested retail price for the C5i is $189.95.
The TT-1 tripod kit is ideal for travelers and those looking for an ultra portable support system. It is bundled with a lightweight X4i reversed-leg, five-section aluminum tripod and Arca-Swiss 3D ball head. The TT-1 tripod kit includes a versatile travel sling bag (with waist belt) for a DSLR, lens and flash. The bag also features two zippered pouches, a water bottle holder and cell pouch, plus a rain poncho. The TT-1 tripod weighs 2.6 pounds with an 11-pound load capacity and has a max height of 57.5 inches. Suggested retail price for the TT-1 is $199.95.
The new line of tripods and monopods are available now with prices starting at $89.95.
For more information visit http://www.customslr.com/collections/fotopro-tripod-and-accessories.
About Custom SLR
Custom SLR is a photography accessories company that got its start from the crowdfunding website Kickstarter.com, where it successfully funded four projects including the C-Loop Strap Mount, Split Strap, M-Plate Universal Tripod plate, and ProDot Shutter Button Upgrade.