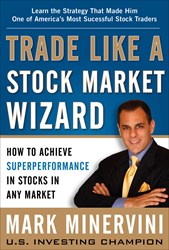 "A Life Changing Seminar" - Pradeep Bonde, Founder, StockBee
New York, NY (PRWEB) August 20, 2013
U.S. Investing Champion Mark Minervini recently announced the 2013 Master Trader Program investment seminar will be held on October 12-13th, 2013 at the Grande Dunes Marriott Resort in Myrtle Beach, South Carolina. His special guest presenter will be 3-time U.S. Investing Champion David Ryan.
The Master Trader Program is a 2-day live event where stock investors and traders learn how to achieve superperformance in stocks and duplicate Minervini's investing success using his methods in their own trading.
Mark Minervini one of America's most successful stock investors and the Author of the best-selling book Trade Like A Stock Market Wizard; How to Achieve Superperformance in Stocks. He is featured in Jack Schwager's Stock Market Wizards; Conversations with America's Top Stock Traders.
Using his SEPA® trading strategy, in a five-and-a-half-year period Minervini generated a 220 percent average annual return with only one losing quarter. To put that in perspective, a $100,000 account would explode to over $30 million with those returns. Minervini won the U.S. Investing Championship with a 155% annual return.
David Ryan is a stock investor who is known for winning the U.S. Investing Championship three times in a row; earning triple-digit returns in each year. He is a protégé of legendary investor/founder of Investor's Business Daily William O'Neil.
Seminar Information:

Saturday & Sunday October 12-13, 2013 Marriott Resort at Grande Dunes, Myrtle Beach
Friday October 11 there will be a special meet & greet 7:00 – 9:00PM
Cost is $4,995 per person with limited seating
If you have questions, e-mail bob@minervini.com or call Bob Weissman at 646-416-6998
Website link: http://www.minervini.com/master_trader.php
Topics Covered:
How to find the best stocks before they make big price gains
Precisely when to buy and when to sell
How to avoid costly mistakes made by most investors
How to manage losses and protect profits
Stock screening and daily routine
Unlimited Q&A over the course of 2-days
Event Page Link
Home Page Link:
Amazon Book Link:
http://www.amazon.com/Trade-Like-Stock-Market-Wizard/dp/0071807225/ref=sr_1_1?ie=UTF8&qid=1376338447&sr=8-1&keywords=minervini