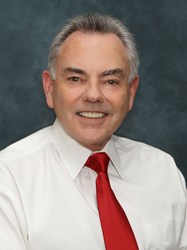 Cumming, GA (PRWEB) August 09, 2013
Patients at Dr. Page Barden's Cumming, GA practice can now take advantage of a new orthodontics treatment capable of significantly accelerating teeth straightening results.
Upon completion of his training program, Dr. Barden has added Six Month Smiles to his practice's comprehensive list of dental services. Six Month Smiles is an advanced orthodontics treatment alternative to traditional braces, which are typically worn for two to three years. Using Six Month Smiles, Dr. Barden can fast track the teeth straightening results so his patients achieve a straighter smile in a fraction of the time.
Although Six Month Smiles moves teeth at the same speed as traditional braces and both treatments employ a similar method to achieve straightening results, the new alternative orthodontics procedure focuses solely on rectifying cosmetic issues that are perceptible when a patient smiles. Unlike braces, which are employed to correct a patient's bite in addition to improving the smile's aesthetics, the Six Month Smiles procedure is used exclusively for correcting the front teeth. As a result, patients no longer have to wear braces for years in order to straighten crooked teeth that detract from the visual appeal of their smile.
In addition to requiring less time to produce teeth straightening results than braces, Six Month Smiles also offers the advantage of subtlety. Adult patients in particular appreciate the clear, barely perceptible appearance of Six Month Smiles, as many feel self-conscious about wearing traditional telltale metal braces. In most cases, Six Month Smiles can be used by any patient over the age of 15 who wishes to quickly resolve cosmetic issues like spaces and crooked teeth.
Dr. Barden looks forward to offering this fast, affordable, and effective new teeth straightening procedure at his Cumming, GA office. To learn more about Six Month Smiles and schedule a consultation with Dr. Barden, please call (678) 648-1998 today.
About the Doctor
Page Barden, DDS is a dentist offering personalized dental care for Cumming, GA gum disease patients. Dr. Barden received his Bachelor of Arts from University of Denver. He continued his education at the University Of Detroit School Of Dentistry. After serving in the U.S. Air Force, Dr. Barden further extended his education at Indiana University where he earned a degree in Periodontics from the School of Dentistry. He is part of one percent of dental professionals providing the most recent FDA cleared laser procedure for gum disease treatment. To learn more about Page Barden, DDS and his dental services visit his website at http://www.georgiagumsurgery.com and call (678) 648-1998.