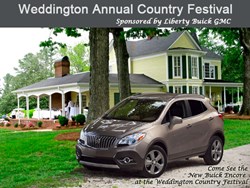 See the New 2014 Buick Encore at the Festival!
Weddington NC (PRWEB) August 11, 2013
Honoring its long history and spirit of its people, the Town of Weddington is hosting the Second Annual Weddington Country Festival on Saturday, September 21st from 10:00am until 4:00 pm. The event will help commemorate the town's 30th Anniversary with a theme, "Then to Now." Liberty Buick GMC will be a sponsor of the Festival helping to honor not only its rich history, but also its exciting future.
"This event is filled with fun for the whole family and we'd love to see the Weddington residents come out and enjoy the day as a community," says Scott McCorkle, owner of Liberty Buick GMC. "The event not only celebrates its last 30 years as an incorporated town, but also acknowledges the rich history of Weddington that goes back to the mid 1800s."
Barbara Harrison, councilwoman for Weddington and main organizer of the event will be displaying an historic timeline highlighting how the town has grown from its early days. "The festival will bring some old- fashion fun family fun for all ages to the heart of the community," says Barbara Harrison. "It will be a day featuring local artists, arts and crafts for kids, a bouncy castle, petting zoo, baking contest, a hula hoop contest and more. We're also offering a free lunch to all senior citizens in the community," she added.
As one of the main sponsors of the Weddington Country Festival, Liberty Buick GMC will have on site 3 of its newer model cars and trucks. Attendees will have a chance to sit in a new Buick or GMC 2014 model and get an up close and personal view.
The event will be held at the Town Hall and the Weddington Corners Shopping Center located behind Town Hall at 1924 Weddington Rd. For additional information about the Weddington Country Festival, please call Barbara Harrison at (704) 846-4919.