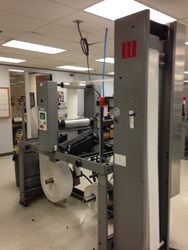 When it comes to labels we really apply ourselves!
Milford, NH (PRWEB) August 22, 2013
The Martin Butt Splicer equipment allows Amherst Label to continue to be competitive in the custom label market. As costs for materials, shipping, energy and property continue to rise, Amherst Label invested in equipment to increase efficiency and offset these increased expenses.
The Butt Splicer helps with the registration of labels as well. With state of the art tension control, the press will now hold better registration. This results in a higher quality product and helps to reduce waste. Amherst Label continues to look at many areas in operations to offset rising costs and allow us to hold current prices or keep increases to our customers at a minimum.
The Martin Butt Splicer features are as follows:

Can handle 3" and 6" cores
Maximum width on this press is 10" stock
Allows the operator to watch job printing while rolls changing
Reduced the down time on changing rolls
Use of red splicing tapes allows QC to pull out all splices
Holds tension so better registration
Allows us to override the older web braking system
Can keep press in the run mode on longer runs
Contact Amherst Label for all of your labeling needs!