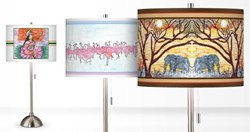 When Arts Programs in schools are underfunded and financial needs for children and education are great, programs such as this one make a tremendous difference.
Los Angeles, California (PRWEB) August 19, 2013
Leading national lighting retailer Lamps Plus announces that it will begin offering the Light for Education Collection, a series of student-designed lampshades produced in a partnership between California-based education nonprofit The School Fund and kathy ireland Worldwide® (kiWW). Proceeds from the lamps will go to The School Fund be used to fund education scholarships for students in the thirteen developing countries the organization supports.
For the Light for Education program, students currently supported by The School Fund created bright and colorful original artwork that reflected the unique culture and heritage of their homelands. A team from The School Fund along with entrepreneur and philanthropist Kathy Ireland selected designs to be used on lampshades in the collection. The designs are available for sale at LampsPlus.com.
"Shades for these unique table lamps and floor lamps are custom printed and assembled by craftspeople in our California design studio," explains Manja Swanson, Chief Creative Officer of Lamps Plus. "We're delighted to offer customers lighting designs that support such a great educational charity and perfectly complement their global decorating style."
"School should be free and accessible by everyone -- especially in countries where education is needed the most -- but tragically that's not the case," says Matt Severson, founder and president of The School Fund. "Kathy Ireland is a committed advocate for students around the globe and we're proud to partner with kiWW and PCL to ensure that more students have access to the benefits that education brings. We couldn't be more excited to be working with these outstanding companies to not only bring these heart-warming products to market but also to change the lives of students from the developing world."
Kathy Ireland, CEO of kathy ireland Worldwide and a member of The School Fund Advisory Board commented: "It is a privilege to experience young geniuses creatively expressing their design talents for the "Light for Education" Campaign with The School Fund and Pacific Coast Lighting. Matt Severson of The School Fund and Clark Linstone at Pacific Coast Lighting have collaborated to give these students an opportunity to share their gifts with the world. At a time when Arts Programs in schools are underfunded and when financial needs for children and education are great, programs such as this one make a tremendous difference. Please visit LampsPlus.com/The-School-Fund and join our family and colleagues all over the world in supporting the wonderful work of The School Fund art project from PCL."
Globally, more than 71 million children cannot attend high school because they live in poverty. Data shows that, in countries where most people live on less than $1 a day, each year of schooling translates into a 10% increase in an individual's potential income.
About The School Fund
The School Fund was founded in 2009 by then-college student Matt Severson after a family vacation to Tanzania. While traveling through the country, Matt met John Medo, a bright young man who dreamed of becoming president of Tanzania one day. However, John was unable to finish high school because his family couldn't afford the $150 annual fee. John inspired Matt to create The School Fund -- a crowd-funding platform that raises money for students' secondary school fees around the developing world. Since 2009, The School Fund has supported over 430 students and raised over 730 years of education. The School Fund has been featured in The Economist, Fast Company, Huffington Post and was recognized by President Clinton at the annual Clinton Global Initiative University meeting. Learn more at: TheSchoolFund.org.
About kathy ireland Worldwide
Founded in 1993, the kathy ireland Worldwide® brand, celebrates a lifestyle. The missions of "...finding solutions for families, especially busy moms™," "...finding solutions for people in love™," and "...finding solutions for business people™," translates to all kiWW® collections, including: fashion, fine jewelry, intimate apparel, accessories, weddings, home, office and more.
kiWW's unique capability to design and translate fashion trends for all markets and price points allows it to develop product for a wide variety of customer tastes.
Listed as the 28th most powerful brand globally by License Global Magazine, with annual merchandise sales of $2 billion, according to Forbes Magazine, the success of kathy ireland Worldwide® is the result of teamwork and dedication. According to Fairchild Publication, Kathy Ireland is one of the 50 most influential people in fashion.
Kathy and kiWW® support many non-profits including; YWCA, Dream Foundation, Providence Educational Foundation, 911 for Kids/AEFK, Elizabeth Taylor AIDS Foundation and the St. Jude Children's Research Hospital.
As a powerful advocate for Israel, Kathy has spoken out for the American Israel Public Affairs Committee (AIPAC) conference, with global leaders, including, Prime Minister Benjamin Netanyahu, President Shimon Peres and President Barack Obama. Kathy is a member of WIZO, and is honored by the ADL and the JNF.
About Lamps Plus
For more than 30 years, Lamps Plus has been synonymous with excellence in the retail lighting industry. Established in 1976, Lamps Plus is the nation's largest specialty lighting store, with more than 40 superstores throughout the western United States. In 2013, LampsPlus.com was named a Top 10 Housewares/Home Furnishings e-tailer and a "Hot 100" world's best retail website by Internet Retailer Magazine. Together with its retail locations, the company serves customers nationwide with the largest selection of functional and decorative lighting fixtures, accessories, furniture and home decor. This selection includes hundreds of products, ranging from traditional chandeliers to the latest in home decor, available exclusively from Lamps Plus. The company also holds several patents for innovative lighting. Services offered include in-home lighting consultations, in-store workshops and installation from expert, licensed electricians. American Lighting Association certified designers are available to offer product recommendations and advice in all our stores, by phone or online at LampsPlus.com. The Lamps Plus family of websites also includes 55 Downing Street, Lighting Luxury Style, Builders Discount Lighting, and Lamps Plus Open Box. Visit the official Lamps Plus website: LampsPlus.com.