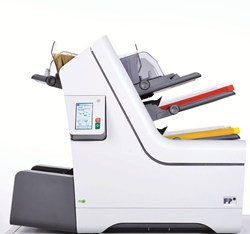 In the battle against office machine dread, the FPi-2500 is a seamless tool that's a pleasure to use.
Addison, IL (PRWEB) August 11, 2013
FP Mailing Solutions is excited to announce the latest addition to its folder-inserter produce line, the FPi-2500. This new model gracefully automates letter folding and envelope insertion so thoroughly that users can usually load the feed trays and tap the start button, letting the machine do all the thinking and physical work.
Intended for mid-volume mail processors, the FPi-2500 easily folds and inserts a wide range of paper media, from 3.5" x 5" cards to 9" x 14" sheets, supporting up to 8 sheets per envelope. This broad capability covers most requirements for envelope mailing, including billing, direct response marketing, brochures, general correspondence, flyers, and more.
Setting up and running jobs on the FPi-2500 couldn't be easier thanks to its friendly and clear color touch screen. It also automatically configures jobs by sensing the paper types loaded in its feeders.
FP's Director of Marketing, Kevin Pietras, reflected, "In the battle against office machine dread, the FPi-2500 is a seamless tool that's a pleasure to use, and doesn't require training or intense thinking to operate for typical jobs. It's like walking up to the copier and pressing 'Copy'."
The smallest folder-inserter in its class, the compact FPi-2500 has an award-winning design, making it easy to integrate into any office space both physically and aesthetically.
Folder-inserters are a relatively obscure office machine category that can save enormous amounts of time, quickly earning a positive return on investment. In fact, the FPi-2500 does the work of 24 manual envelope stuffers. (Based on an average 100 manual fold/insert operations per hour, and the FPi-2500's 2,400 finished envelopes per hour.)
For more information about the FPi-2500, including technical specifications and photos, go to fp-usa.com/fpi-2500.
FP Mailing Solutions is an international manufacturer of postage meters, mailing systems and mailroom software, is the fastest growing postage meter provider in the U.S. Whether you have a large mailroom or own a small business, FP Mailing Solutions has the tailored postage meter system for your needs. For more information on FP Mailing Solutions, visit http://www.fp-usa.com.