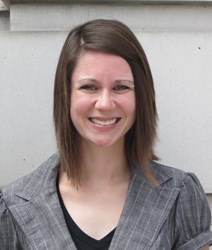 St. Louis (PRWEB) August 21, 2013
The School for Professional Studies at Saint Louis University has named Katie Devany, M.S. as the new Program Coordinator and Instructor for SLU's Hospitality Management program. The hospitality program is offered as a minor or standalone certificate and is designed for working adults looking to pursue a career or enhance their skills in all aspects of the hospitality industry including restaurant management, lodging, gaming, events and tourism.
Prior to this position, Katie was the Assistant General Manager for Hotel Ignacio in St. Louis as well as an adjunct professor for St. Louis Community College. She also has experience as a Guest Services Manager for several hotels and resorts including Wyndam and Country Inn and Suites.
Devany received her Bachelor's in Family and Consumer Science with a concentration in hospitality from Eastern Illinois University and her Master's in Hospitality and Tourism Management from the University of Central Florida.
All classes in the School for Professional Studies are offered in accelerated eight-week sessions and are designed for busy adults with affordable tuition rates as well as convenient, online classes. SLU for Busy Adults gives working professionals the opportunity to earn their degree with flexible online and evening courses. In Saint Louis University's tradition of excellence, the School for Professional Studies caters to nontraditional students so they can pursue Bachelor's and Master's programs from globally-recognized SLU.
Applications for all programs are being accepted now for the Fall Term. Anyone interested can apply online at busyadults.slu.edu or call (314) 977-2330.
###