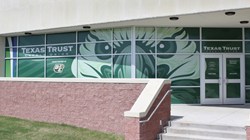 This partnership gives us educational resources to teach our students about personal financial responsibility, the ability to raise money through the Spirit Debit Reward card, and a host of other benefits.
Mansfield, Texas (PRWEB) August 12, 2013
Texas Trust Credit Union and DeSoto ISD have become partners in education. The credit union and school district are working together to provide financial services and education to employees, students, and their families. As part of Texas Trust's Spirit in Action campaign, DeSoto ISD will receive financial rewards, an in-school branch, and state-approved financial materials for classroom training, plus personal financial educational programs for parents and faculty.
Texas Trust will operate a full-service branch within DeSoto High School two days a week. The branch will employ two DeSoto High School students as paid interns who will receive on-the-job training and experience serving members, processing financial transactions, and managing the branch. Student interns will also serve on the Texas Trust Youth Advisory Council. The DeSoto ISD branch, which opened today, is Texas Trust's third in-school branch. Its first in-school branch opened in 2008 within Mansfield ISD's Ben Barber Career and Technology Academy.
Texas Trust will also offer a specially designed DeSoto Eagle-branded Spirit Debit Reward card. The card will be available to any member interested in supporting DeSoto ISD. The school district will receive 15 cents each time a cardholder uses the card to make a purchase. Since 2011, Texas Trust has donated more than $317,000 to participating school districts, for more than 2.1 million purchases made with the Spirit Debit Reward Card. The card program currently supports four school districts.
"This partnership gives us educational resources to teach our students about personal financial responsibility, the ability to raise money through the Spirit Debit Reward card, and a host of other benefits," said Dr. David Harris, Superintendent of DeSoto ISD. "Having a partner, such as Texas Trust, helps strengthen our educational system and the DeSoto community."
The partnership will also make financial education services broadly available throughout DeSoto ISD. Elementary students will receive financial starter kits to help teach them about managing money. Events throughout the year for middle and high school students will focus on saving for college, buying your first car, managing money, and more. These free classes at different campuses will be open to students, staff, parents and the community.
"The Spirit in Action campaign is designed to provide tools, resources, and financial support to schools within the communities we serve," said Amber Danford, senior vice president of marketing. "The in-school branches educate students on the purpose and value of financial institutions and encourage them to develop healthy financial habits. For employees and parents, the in-school branch makes it convenient to cash checks, make deposits, and even apply for loans."
Danford added, "Through Spirit in Action, our goal is to develop more financially fit members in the communities we serve."
About Texas Trust Credit Union
Texas Trust, one of the largest credit unions in North Texas and the 21st largest in Texas, provides financial services that enable members to build brighter financial futures. It has been operating for more than 75 years. As a full-service financial institution, Texas Trust offers checking, savings, mortgages, credit cards, CDs, Money Market accounts, IRAs, and investment and insurance services. Its business services include SBA and conventional loans, electronic payment cards, checking and money market accounts, merchant card processing, online banking, insurance, and the Employee Solutions Network. With assets of more than $760 million, Texas Trust operates in Dallas, Tarrant, and Henderson counties, as well as parts of Ellis and Johnson counties. It has 11 branches located in Mansfield, Grand Prairie, Arlington, Cedar Hill, Hurst, and Athens. Texas Trust is a federally insured financial institution. Deposits up to $250,000 are insured by the full faith of the federal government through the National Credit Union Administration (NCUA). For more information, visit http://www.TexasTrustCU.org.