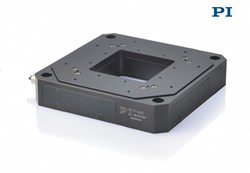 With parallel direct-metrology, all non-contact sensors monitor the moving platform in reference it to ground "from the outside". They can "see" off-axis and runout errors.
(PRWEB) August 11, 2013
The P-562.6CD 6-axis nanopositioning stage from PI (Physik Instrumente) is a unique piezo-driven, flexure-guided positioning system based on the parallel-kinematics principle. The system enables precision motion in all degrees of freedom with 1 nanometer and 100 nano-rad closed-loop resolution, respectively.
Travel ranges are 200 µm linear and rotational / tilt angles are 1 milliradian.
This piezo positioning system is equipped with direct-measuring capacitance sensors and a digital closed-loop controller provides up to 3 orders of magnitude better linearity / accuracy compared to conventional piezo flexure stages.
Applications include semiconductor manufacturing / testing, data-storage, nano-manufacturing, bio-technology, nanotechnology, super-resolution microscopy, nano-imprint lithography.
Specifications and Datasheet on the Piezo Stage
http://www.nanopositioning.net/nanopositioning-six-axis-stages.php?onl_prw_mars
Solid-State Piezo Drive and Frictionless Guidance System:
P-562 piezo stages incorporate high stiffness, solid state piezo drives, frictionless flexure guiding systems and absolute measuring capacitance feedback sensors for closed-loop control. Due to the high stiffness of the piezo drives and the low inertia of the moving platform, the system can provide rapid step and settle performance with response times in the millisecond range.
The parallel-kinematics mechanical design is supported by a parallel direct-motion metrology sensor system. With parallel direct-metrology, all non-contact sensors monitor the moving platform in reference to the fixed frame. Off-axis and runout errors are eliminated by the motion controller in real-time.
Features and Advantages

6 Degrees of Freedom
200 µm Linear Travel, 1 mRad Rotation
Nanometer Resolution
Millisecond Responsiveness
Ultrahigh Vacuum Versions up to 10-9 hPa Available
Invar, Super-Invar and Titanium Versions Available
Controllers
The E-712, 6-Axis high-end controller complements this ultra-high precision positioning stage.
About PI
PI is a leading manufacturer of piezo systems and precision motion-control equipment for semiconductor, photonics, and nanotechnology applications. The company has been developing nanopositioning equipment for 4 decades. PI is present worldwide with 10 subsidiaries and a total staff of 750+.