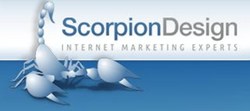 Valencia, CA (PRWEB) August 09, 2013
Internet marketing and website design company Scorpion Design, LLC is proud to announce that they are helping support the American Bar Association's 2013 Annual Meeting in San Francisco, California. Scorpion is the official sponsor of the President's Reception, which will be held on August 10 from 7 to 9 p.m. at the internationally renowned San Francisco City Hall. Scorpion is proud to help support such a prominent event.
"We look forward to seeing everyone at the President's Reception dinner, which we are sponsoring," said Director of Marketing & Events Kylie Patterson. "It should be a great time."
Scorpion is also proud to be among the attendants of this year's Annual Meeting, with several key members of the company setting up at booth #517. While there, they hope to be able to talk to attorneys and law firms from around the country about ways in which they can help to improve their Internet marketing experience. Recognized as leaders in the Internet marketing industry, Scorpion Design looks forward to helping attorneys who are attending the Annual Meeting to learn more about how they can expand their reach online.
"It has been rewarding to get to speak with attorneys from all over North America and educate them on the latest in online marketing," said Senior Vice President of Sales Peter Webb.
This was also the official unveiling of Scorpion's latest product: Targeted Search Marketing (TSM). With TSM, Scorpion is able to help client's find a powerful marketing tool that is affordable and tailored to their needs. So far, the reception of the TSM product has been exceptionally positive from attorneys of all walks of life.
"It has been amazing to be such a big part of this widely attended conference," said VP of Sales Ben Fiandaca. "I've had the opportunity to speak to all different types of firms from across the country practicing all different types of law. The feedback has been overwhelmingly positive about our company and products."
Scorpion looks forward to continuing to help sponsor and support the American Bar Association in future events. They are currently still in San Francisco—located in the ABA Expo—and will be staying there until the end of the event on Saturday night. Attorneys who are attending the event should not hesitate to go and talk to the Scorpion representatives about how the company can help take their marketing to the next level.
Scorpion Design, LLC is an Internet marketing and web design company based in Southern California. They proudly serve attorneys and law firms throughout the nation, even servicing some lawyers internationally. Over the past decade, they have truly established themselves as innovative thinkers, hard workers, and strategic minds, which has allowed them to help their clients effectively expand their online reach. To learn more about how Scorpion's products and services, please visit them online at http://www.scorpiondesign.com.