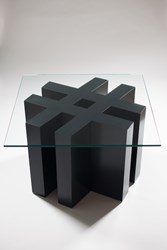 New York, NY (PRWEB) August 13, 2013
Introducing Bahia Style, a new line of accent furniture that literally makes a statement. Using timeless yet timely symbols like the hashtag and the question mark, the brand kicks off with a line of coffee tables that boldly proclaims its owners are anything but run-of-the-mill.
The inaugural collection features the Hashtag Table, a design that says "trending topic" today with a figure that has been on the scene from manual typewriters to telephones. The line is based on the premise that people prefer traditional designs for large furniture pieces but are happy to use more exotic ideas for smaller items.
Bahia Style is the brainchild of Bahia de Montarlot, a French designer who moved to New York as a young girl and has spent a decade working for her family's international home decoration business. Determined to exercise the kind of quality control that is only possible when the designer can oversee manufacturing, she decided to make her line in Brooklyn, where she can personally ensure that each piece is a perfect marriage of art and craft. Bahia is proud to offer products made in her second mother country at a time when so many competitors are cutting corners with cheap mass-produced imports.
Other designs in the collection include the "Love", "Hey", and "Zebrano" tables. These tables are made of solid MDF wood, and depending on the style, they will have lacquer, unique veneers, and glass surfaces.
Bahia Style is priced from $1,100 to $1970 retail and is available to the trade at bulk prices. See http://www.bahiastyle.com for ordering information or go to Items of Interest (60 5th Ave, Park Slope Brooklyn, NY 11217), or http://www.zinhome.com/.