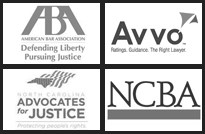 Durham, North Carolina (PRWEB) August 12, 2013
Pierce Law Offices, a North Carolina Personal Injury law firm announces the expansion of their legal services to include Spanish-speaking legal services. Pierce Law is offering the same array of quality and professional representation in Spanish to accommodate North Carolina's under-represented Spanish speaking population. This new service includes legal documents available in Spanish, a new Spanish-only telephone line, as well as in-person conversational Spanish services. Pierce Law has decided to offer services in Spanish in order to better serve their clients and provide quality legal representation without a language barrier.
The Pierce Law team is eager and excited about making their bilingual practice accessible and inviting to Spanish speaking individual in and around North Carolina. "We are committed to helping our clients in any way possible," said North Carolina Personal Injury Attorney Jared Pierce, "by providing Spanish services, we hope to reach out to individuals who may feel discouraged in seeking legal help due to language differences."
While the incorporation of Spanish is a new change, the standard of legal services rendered at Pierce Law will remain the same. With a focus on Personal Injury, Spanish speakers who have been involved in car accidents can secure legal representation to seek compensation for their injuries. Pierce Law has a proven track record of maintaining consistent and individualized contact with their clients. They will now continue to do so with clients who speak Spanish by providing full-time Spanish speaking services. Clients can feel confident that their needs are fully understood and taken care of by eliminating language and translation difficulties.
To find out more about the legal services provided for Spanish speakers at Pierce Law, contact a North Carolina Personal Injury Lawyer directly at http://www.piercelawnc.com, or simply call their dedicated Spanish service line at (919) 267-3884.
###