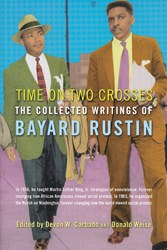 A diverse and invaluable collection of writing from one of the 20th century's most important human rights champions.

—The Gay & Lesbian Review
(PRWEB) August 12, 2013
President Barak Obama has bestowed the Presidential Medal of Freedom upon Bayard Rustin, civil rights activist who worked alongside Martin Luther King Junior, and author of Time on Two Crosses (Cleis Press). As Metro Weekly reports, Apollo astronaut Sally Ride will also receive this honor, which makes both recipients LGBT.
As Obama recently explained in a speech regarding the award, "The Presidential Medal of Freedom goes to men and women who have dedicated their own lives to enriching ours." This certainly fits Ruskin, who was a civil rights activist for both LGBT and African American justice, and documents his intersectional experiences in Time on Two Crosses. This year is the 50th anniversary of the 1963 march on Washington, so the president's award coincides with a monumental moment of remembrance.
Bayard's writing in Time on Two Crosses still rings true today, with such incisive, insightful statements as "If the problem of the ghetto do not lend themselves to simple analyses or solutions, then, this is because they cannot be solved without mounting a total attack on the inadequacies endemic to, and injustices embedded in, all of our institutions."
In his own voice, the history of the civil right movement told by the black gay adviser to Martin Luther King, Jr. and the organizer of the 1963 March on Washington.
Bayard Rustin, the famed openly-gay African American organizer, taught Martin Luther King, Jr. strategies of nonviolence during the Montgomery Bus Boycott, thereby launching the birth of the Civil Rights Movement. Widely acclaimed as a founding father of modern black protest, Rustin reached his pinnacle of notoriety in 1963 as organizer of the March on Washington.
Long before the March on Washington and King's ascendance to international prominence, Rustin put his life on the line to challenge racial segregation. His open homosexuality, however, remained a point of contention among black church leaders, with controversy sometimes embroiling even King himself.
Time on Two Crosses showcases the extraordinary career of this black gay civil rights pioneer. Spanning five decades, the book combines classic texts ranging in topic from Gandhi's impact on African Americans, white supremacists in Congress, the antiwar movement, and the assassination of Malcolm X, with never-before published selections on the call for gay rights, Louis Farrakhan, affirmative action, AIDS, and women's rights.