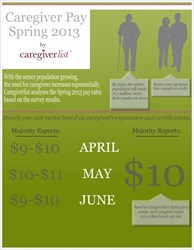 Professional senior care jobs pay much better than minimum wage and senior care companies also provide training.
Chicago, IL (PRWEB) August 12, 2013
Spring 2013 survey data by Caregiverlist reveals the majority daily and hourly pay rate, $10 and $140 respectively, based on real senior caregiver's responses. Since the senior home care industry has grown by 40% since 2008, due to the increase of the 65 and older population, senior caregiving jobs increase in demand.
"Professional caregiver jobs pay much better than minimum wage and senior care companies also provide training," says Renata Laszuk, Caregiverlist Career Center Manager. This means anyone with a caring personality can become a professional caregiver and enjoy job security in an industry that will continue to grow as America's seniors age-in-place.
Senior caregiver pay rates covering April, May and June of 2013 vary in hourly and daily wages. Based on a total of 7,138 caregiver responses in Spring, most caregivers, 24.4%, got paid $10 an hour. However, caregiver hourly pay rates can vary from $7 to $14. Only 4.7% caregivers make up the low end and 8.4% make up the high end, creating a bell curve. However, a majority of the caregivers, 5,984, get paid below $10, whereas only 2,402 get paid above.
Daily pay rates for senior caregivers range from $80 to $140, with most caregivers, 17.9%, getting paid $140 a day. Over the course of April through June, 2,740 caregivers responded to the Caregiverlist Pay Rate survey. Surprisingly,15.3% of the other caregivers report $80 as their daily pay, followed by 14.7% for $90 a day. 1,270 of the caregivers paid a daily rate report being paid over $100 and 1,470 of the others get paid $100 or less.
The Caregiverlist Caregiver Survey reveals that most survey respondents in April, 18.99%, expect to get paid $9-$10 an hour. The data remains consistent over the next two months in Spring. In May, 14.48% of the respondents expected $10-$11 an hour. And in June, the majority, 15.02%, expected $9-$10 an hour. These results show that senior caregivers fairly judged what they would get paid with what others reported as their actual pay. Based off of these results, potential caregivers are pretty spot on with what they expect to get paid.
Apply for a senior caregiving job today on Caregiverlist.com. Senior caregiving agencies hire caregivers daily to support their inflow of the 65 and over population. Senior caregiving not only reaps a consistent paycheck, but satisfying experiences, too. Many senior caregivers share their heart warming experiences on Caregiverlist.com to motivate other caregivers who could be struggling to get through their day.
About Caregiverlist
Caregiverlist.com is the nation's online destination dedicated to connecting seniors with quality senior care choices. Caregiverlist.com helps seniors and their loved ones define care needs, understand the many caregiving options and costs and connect to senior home care agencies that meet Caregiverlist.com's checklist of quality standards. Caregiverlist.com is also a leading caregiving career and recruitment resource. Visit http://www.Caregiverlist.com/.