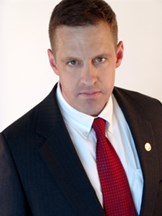 Dallas, Texas (PRWEB) August 11, 2013
Patrick J. Mclain has been a military and criminal defense lawyer for over 20 years and recently, the firm has relaunched their site http://www.dallasdefenselaw.com/
Shifting his focus from Texas and nationwide military cases to more regional cases within the city of Dallas, the site primarily is focused on providing a platform for more regional cases for Mr. Mclain.
Patrick McLain first cut his teeth in the courtroom in the Middle Eastern desert during operations Desert Storm and Desert Shield, working numerous jury trials. During his military career, he practiced both as a prosecutor and a defense attorney, gaining insight into both sides of a criminal case, and eventually became a Marine Corps trial judge. Patrick McLain rounded out his government service as an Assistant United States Attorney in the Northern District of Texas before going into private practice as a defense attorney.
An impeccable record of experience is not the only thing Patrick McLain offers his clients, however. He is also a tireless and passionate advocate. The new site is focused on exhibiting his prior and current accomplishments, and bring his case closer to home.
214-646-3128 or on the web at http://www.dallasdefenselaw.com.