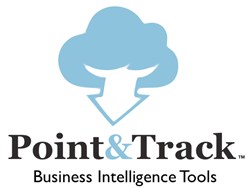 Dallas, TX (PRWEB) August 12, 2013
Today Point & TrackSM LLC (http://www.PointandTrack.com) officially launches to enable thousands of field service technicians the ability to gather field data efficiently and store the data securely in private cloud servers where the data can later be applied and analyzed. Point & TrackSM LLC offers three main services: Mobile Data Gathering, Secure Database Administration and Business Intelligence Tools.
Mobile Data Gathering
Allows devices in the field such as smartphones, tablets and embedded computers to collect specific custom data and then send the encrypted data to a private cloud server.
Secure Database Administration
Private cloud based databases are created and maintained as needed to safely store clients data.
Business Intelligence (BI) Tools
Web based data analysis tools which allow creating custom charts, tables, reports and the ability to analyze and download geographic information system (GIS) data.
The Point & Track team is a group of leading industry experts and rapidly growing. Point & Track has also recently partnered with Applied Field Data Systems (AFDS) to be able to offer not only a software based solution, but also high accuracy GPS equipment as well.
"We have found that many field technicians already own smartphones, so there is little capital investment required for a company to get started using the system" said Michael Hamilton, Co-Founder & Technical Architect for Point & TrackSM LLC. Further, "Our clients want us to bring order to chaos, and help streamline the ability to get field data into their existing systems."
ABI Research in their white paper entitled "Mobilizing Field Forces on Smartphones" found that improved worker productivity and lower device costs were the primary benefits that lowered the total cost of ownership (TCO). The productivity benefits were associated with the smartphone integrated mobile voice, data connectivity and longer battery life. They also found benefits of being able to maintain the software remotely.
"The availability of a low priced application to collect field data on Smart phones is a big step in allowing existing users to streamline and reduce the initial and ongoing cost of the field data collection process. In addition, new first time users will also benefit from this application which is very easy to use and a cost effective way to start a field data collection project economically with minimal training. The Point and Track application allows for much faster Return on Investment." Said, Ashok Wadwani,President of Applied Field Data Systems (AFDS), who has worked with the GIS community for the past 25 years.
To Learn More about Point & Track SM LLC
We'll be in attendance at the Midwest Energy Association Summit, August 13th–15th , Mayo Civic Center, Rochester, MN
Please contact Matthew Moalem: matt(at)pointandtrack(dot)com or "Like" us on Facebook at: http://www.facebook.com/pointandtrack
About Point and Track
Point & TrackSM LLC the worldwide leader in field data collection programs offers a wide range of services to help clients and client prospects achieve global success. Based in Dallas, TX, Point & TrackSM LLC is here to be your partner now and in the future.