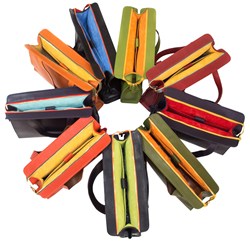 E64ST introduces the High Style for High Tech Collection.
Sherman Oaks, CA (PRWEB) August 12, 2013
E64ST offers an answer to unique, sartorial-minded products for high tech mobile devices with the introduction of its premiere collection, High Style for High Tech.
The High Style for High Tech Collection, on display at this month's NY NOW®, the Market for Home & Lifestyle (formerly NYIGF®), includes a high fashion laptop tote, iPad and tablet envelopes made from both fine grain leather, supple suede, and industrial and marine vinyl, and innovative messenger bags bursting with bright, rugged interior details. Suggested retail prices – laptop tote, $850; iPad clutches, $99-250; and messenger bags, $238-288. Products are available for wholesale orders now; to be shipped in September in time for the holiday season.
The Westside Envelope is the standout with a new design not often seen for iPad cases. Larger than a basic case, it boasts two large interior compartments and a secure closure for added protection. On its own, it doubles seamlessly as a trend driven clutch with plenty of room for your wallet, keys, lip gloss, and smart phone.
"After working for thirty years in costuming and design, I recognize the necessity of an accessory that does double duty. Not only must these bags keep your expensive electronics safe and functioning, they must also look really good with your wardrobe. These bags are for the tech savvy, fashion forward consumer that dresses from head to toe. The High Style for High Tech Collection makes that possible," said Jane Janiger, president, E64ST.
Originally designed to be paired with specific sound equipment for iPads, E64ST has expanded its product line to include fine grain leather and suede laptop totes, vinyl and leather tablet clutches, leather accessory cases for chargers and sundries, leather phone sleeves, cool, industrial messengers, and more. Ideal for corporate and personal gifts, the leather is ready for embossing and monogramming. The Madison Avenue Laptop Tote will soon be featured on NBC's hit series Parenthood. Both lines, the fine grain leather and industrial vinyl are carried at fine retail stores, and the vinyl line will have an exclusive collection on the Home Shopping Network (HSN), and both are available for wholesale purchase.
To ensure fabric quality, E64ST uses only the finest leather and suede, as well as unique vinyl that is specifically manufactured to resist stains and weather. The result is a line of products that acquires its own patina and personality with use over time. The fabric is gentle when it needs to be, such as against the screen of your iPad, and tough enough to be tossed and stowed.
The company will be exhibiting in booth # 8465 in the Javits Center at NY NOW®, the Market for Home & Lifestyle (formerly NYIGF®) from August 18-21, 2013.
About E64ST
E64ST® makes sure each piece is built to provide protection for your electronics, extra room for your personal items, and colorful style that blends in with your Levi's or Manolos. From messenger bags, tablet cases, cell phone cases, and laptop totes, each case is designed using premium grade leather or industrial vinyl with unique, brightly-colored contrast lining. Your cases should be more than basic carrying cases! They should be high style, while remaining tech savvy. We've got exactly what you've been searching for. For more information about E64ST, visit http://www.e64st.com.