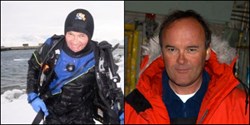 La Jolla, California (PRWEB) August 15, 2013
OxyHeal Health Group® and affiliates for 44 years has demonstrated exceptional expertise in Diving Services, Hyperbaric Oxygen Therapy, manufacturing of Hyperbaric Medical Systems, University level training and Wound Healing/Hyperbaric Clinical Services in Hospitals and Clinics worldwide. OxyHeal®'s 24-7 Critical Care and Trauma level patient care in a Hyperbaric environment is unparalleled in a contracted turnkey setting.
"OxyHeal® is committed to excellence and expanding that record of achievement worldwide," said Ted Gurneé, Founder and Chairman of OxyHeal Health Group® of companies. "Dr. Michael Lang's appointment as Vice President, International Sales, will allow OxyHeal® to further expand its unique capabilities and platform services to new global partners worldwide. Michael's focus will include Diving/Hyperbaric Intervention and medical turnkey services to the deep tunneling infrastructure projects; new opportunities in Wound Healing and Hyperbaric Clinic/Hospital projects; unique diving and marine science; and finally the advance of OxyHeal®'s University and training capabilities."
Dr. Michael A. Lang, called "Master of the Deep" by SMITHSONIAN, is a marine biologist, environmental physiologist, author, and international lecturer with experience as a scientific, recreational and commercial diver trainer. He is currently Senior Research Fellow at The Ocean Foundation, director for nonprofit organizations, including the American Academy of Underwater Sciences and Divers Alert Network, and served with the Undersea Hyperbaric Medical Society, Coral Reef Alliance, U.S.-Japan Natural Resources Council, and as expert consultant to the National Science Foundation, U.S. Coast Guard, U.S. Geological Survey, The Nature Conservancy, and Conservation International.
Former Marine Collector/Curator at San Diego State University, Director of the Smithsonian Marine Science Network, Smithsonian Scientific Diving Officer, and National Science Foundation Polar Diving Safety Officer, Lang is a three-term President of the American Academy of Underwater Sciences. He holds a B.Sc. in Marine Biology from San Diego State University, and a D.Phil. in Environmental Physiology from the Norwegian University of Science and Technology in Trondheim. He is fluent in five languages, has published over 50 scientific papers and popular articles and presented over 300 seminars/papers on current marine science and diving topics. Lang is the chair and chief editor of 22 international, interdisciplinary symposia and workshop proceedings. His research concerns marine science with special reference to the development and use of new technologies for working under water in extreme and remote environments.
His most recent books include Smithsonian at the Poles: Contributions to IPY Science; Smithsonian Marine Science; The Future of Diving: 100 Years of Haldane and Beyond; Science Diplomacy: Antarctica, Science and the Governance of International Spaces; and, Research and Discoveries: The Revolution of Science through Scuba.
Honors include DAN/Rolex Diver of the Year, U.S. Antarctica Service Medal, NAUI Outstanding Instructor Award, Smithsonian Special Act Award, UHMS Craig Hoffmann Diving Award, AAUS Conrad Limbaugh Scientific Diving Leadership Award, DEMA Reaching Out Award, induction into Diving Hall of Fame, and the AUAS NOGI Award for Science.