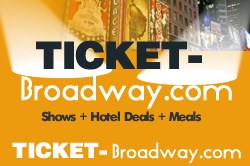 With Reeve Carney about to appear in his final shows as Spiderman on Broadway don't miss the last few chances to see him.
New York, NY (PRWEB) August 09, 2013
After months of previews, accidents and fights amongst the creative team Spiderman on Broadway opened and continues to thrill audiences every night. From the start Reeve Carney played the role of Spiderman, but now Carney announced he will spin his last web on September 15. The show expects to continue with a new actor in the lead role, but those who have thought about attending the musical may wish to buy Spiderman tickets with Reeve Carney still on the stage. Carney did mention that he might be interested in returning to the role in the future or if Spiderman plays as a Broadway touring show.
Headlining an established band that opened for U2 prior to the Spiderman role, Carney may also be found in a Taylor Swift video and varoius TV and movie roles. The other members of Carney's band play in the Spiderman orchestra pit. His new mystery project could be a movie, TV show, album, concert tour dates or something entirely new.
The visual stunts, excitement and rock music style of Spider-Man may stand as the perfect fit for a show to introduce anyone to the Broadway show experience. Spider-Man: Turn Off the Dark represents a rock musical with music and lyrics by U2's Bono and The Edge and a book by Julie Taymor, Glen Berger, and Roberto Aguirre-Sacasa. The musical originates from the Spider-Man comics created by Stan Lee and Steve Ditko, published by Marvel Comics, as well as the 2002 film about the character and the Greek myth of Arachne. lt tells the story of the origin of the character, his romance with Mary Jane and his battles with the evil Green Goblin. The show includes highly technical stunts, such as actors swinging from "webs" and several aerial combat scenes.
Ticket Broadway prides itself in featuring a complete Broadway dinner package site where consumers can purchase show tickets or book a hotel while saving money, then receive a $25 meal certificate as a bonus. Consumers can use coupon code BPACK5 at checkout for discounts. Hotel cash back is offered via an easy online rebate form, and restaurant gift certificates are issued via a convenient online form as well. For those preferring a non internet experience all transactions can take place by phone using a toll free number. In addition to Spiderman, create a package for Motown On Broadway, Wicked, Book Of Mormon or any other show. The savings on Broadway hotels or Broadway plays via the discount codes or cash back rebates remain available for people even when they only book a hotel or buy tickets but not both.
Discover great savings in one convenient location at Ticket Broadway. Best yet, not only can travelers schedule their own Broadway theater tickets or Broadway dinner package, in addition, Ticket Broadway allows consumers the opportunity to create their own customized New York City travel package with Rangers or Knicks tickets, concerts including Lincoln Center, or even restaurant vacations with shows and Broadway hotels.
With discounts and cash rebates not found at other sites, plus a $25 restaurant certificate as a cherry on top from this new selection of fine dining establishments, anyone interested in a complete Broadway weekend package should look at the packages offered at Ticket Broadway. With Reeve Carney about to appear in his final shows as Spiderman on Broadway don't miss the last few chances to see him.
About Financial Firebird and Ticket Broadway
The site to buy Broadway Tickets online and its sister sites, including the Buy Cheapest Tickets online site all geared for the consumers looking for low prices on tickets, are affiliated with the Financial Firebird Corporation Travel Group, and stand among the top sites sought by travelers and people who enjoy concerts, pro sports and theater performances. Financial Firebird Corporation provides unbiased consumer information, software and marketing services - established 2000 and a proud BBB member. These sites for consumers to buy tickets online operate in the resale market and maintain no relationship with the venues or performers, the resale ticket market allows consumers access to popular events once the box office has sold out or to buy premium seats when the venue no longer offers any inventory. Within the group of these secondary market ticket services the Financial Firebird owned ticket sites offer lower prices than competitors. Find the site at Ticket-Broadway.com.