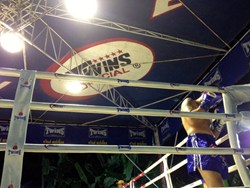 Celebrating 21 years of fighting spirit.
Bangkok, Thailand (PRWEB) August 11, 2013
This summer, Twins Special is celebrating 21 years of excellence. On Saturday, August 10th, the company commemorated the opening date of their factory by holding a grand party event at the factory complex that lasted from early afternoon into the late evening, with food and entertainment. Exhibition fights were held, including matches between factory employees. All competitions were in good spirits and was refereed by representatives of the Thai boxing community and senior Twins staff members.
From Muay Thai gloves and shinguards, to professional laceup boxing gloves and headgear, to new MMA gloves and training gear, Twins makes the world's best protective gear and training equipment for fighting sports. At the official Twins Special website, customers can now even design their own custom color equipment.
Throughout its history, Twins has always upheld the traditional values of martial arts, encouraging athletes remember the heart of the sport. The brand was recently featured in a short, inspirational film called "Muay Thai- Pass It On" about a young man's journey to adulthood in the martial art of Muay Thai. Filmed on location in Bangkok, Thailand at Lumpini Stadium and Baan Muay Thai gym, and starring legendary Thai fighters Samart Payakaroon and Sangtiennoi, the story has now had over 300,000 views on YouTube due to its inspiring content.
Twins offers a broad range of different types of boxing gloves. Twins also manufactures high quality headgear, shinguards, training gear, and apparel.
About Twins Special
Famous for its incredibly comfortable and protective Thai boxing gloves and other equipment for competition and training, the Twins Special brand was founded on June 2, 1992. A full year was spent developing the largest and most modern factory for fighting equipment in Thailand. Over the years, the factory complex has continued to grow and renew itself with the latest advancements in technology. As a company, Twins has distinguished itself by receiving the acceptance of the international boxing, Muay Thai and Mixed Martial Arts communities. The exceptional operations of the Twins factory continue to show their expertise in production, marketing and design. The production methods utilized are both contemporary and efficient and held to the highest levels of quality control. Twins Special is currently the leading exporter of Thai boxing gear to the world market, and has been recognized by the Thai government as an outstanding employer and safe workplace. Because of their superior design and craftsmanship, along with their high standard of materials used in production, the reputation of "TWINS" products is known to people throughout the world. Fighters, coaches and promoters in every country trust Twins Special quality, which is why Twins Muay Thai Gloves and Muay Thai Shorts are the official gear of Lumpini Stadium, the legendary national stadium of Thailand.