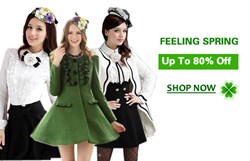 (PRWEB) August 10, 2013
For the past 10 years, 4leafcity.com has been proudly serving their clients around the world, providing high quality fashionable dresses. Today, the company is pleased to announce its promotion of men's shirts (see: http://www.4leafcity.com/product-men-s-shirts-009001.aspx), and all its dresses are available at greatly discounted rates, up to 39% off.
4leafcity.com is regarded as one of the most prestigious suppliers in the industry of Chinese traditional clothing and provides a global benchmark of Chinese traditional clothing excellence. Now, all of them are available at discounted prices. For example, one of the dresses was previously priced at 62, and it is offered at a new price of $18. The updated website of 4leafcity.com is a completely operational and functioning site that comes with affiliate programs.
"We are so excited to launch a promotion in this season, and those who want to buy cheap men's shirts online should visit our online store as soon as possible before August 15, 2013, " says, the CEO of the company.
Since opening its doors 10 years ago, 4leafcity.com has grown into a well-respected dress company with 25 full time team members. Now, the company is also offering big discounts on its other products, including cheap shirts for men, Clubwear mini dresses and more.
About 4leafcity.com
4leafcity.com is a leading company operating though the online platform 4leafcity.com. The company supplies exotic women's dresses, elegant men's dresses, Chinese traditional clothes and various accessories. It is known for its high quality and low rates.
For more information, please visit http://www.4leafcity.com.