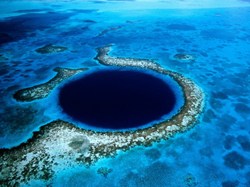 "In a small country such as Belize we're all very interdependent, and one thing we all have in common is a reliance on the health of our amazingly diverse and pristine ecosystem."
(PRWEB) August 12, 2013
A new scientific marine survey resulted in some welcome news for the Belize Great Barrier Reef, according to an environmental education coordinator at the Lodge at Chaa Creek.
Brion Young, assistant manager of Chaa Creek's Belize Natural History Centre, said that the Catlin Seaview Survey, organised by Australia's University of Queensland, contained some heartening news about the overall health of the UNESCO world heritage-listed Belize Great Barrier Reef, one of the country's most important travel destinations.
"While there are concerns about the declining health of reefs worldwide, it was heartening to hear that, at this stage, the Catlin Seaview Survey indicates that there has been progress in the overall health of Belize's extensive reef system," Mr Young said.
Speaking to Belize's News 5 on August 8, 2013, Catlin Seaview Survey marine scientist Manuel Gonzalez said, "Belize is in an amazing state. The Mesoamerican barrier reef is the most prominent in the region. We've seen areas in a very good condition and there are working towards progress, but some areas are not so good. So we still have some areas with the potential to become better in the future."
Mr Young agreed that while there is still much room for improvement, "it appears that Belize's conservation efforts are paying off, and this is great news. Local environmentalists have been working with global organisations such as Oceana and other agencies, and we are seeing some real results. "
Compared to other nations, Mr Gonzalez said that "Belize is going one step ahead of many other countries in the region. They've already banned pirate fishing…"
Mr Young confirmed that Belize had recently banned unauthorised transshipments of fish on the high seas as a means to combat the destructive illegal trade of fish laundering, and pointed to the country's outlawing the destructive practice of bottom trawling in 2010 as another example of conservation efforts that are paying off.
"In Belize eco-tourism is now driving our economy, and being such a small country our tourism partners work very closely with environmentalist and government agencies. In fact, I can't think of another country where ecotourism plays such a role in national development. This has allowed Belize to develop along the lines of sustainable tourism and responsible travel," Mr Young said.
However, Mr Young cautioned, there is still much work to be done and the ecotourism industry is continually lobbying government for stricter safeguards, especially in sensitive areas of the reef.
When asked about the impact on the reef of tourism, Mr Gonzalez said, "Well tourists are the main users of the reef, but the impact of the cruise ships relate more to the dragging and ports where they can anchor. So fortunately there are not many accesses in the barrier reef here and the less impact we have in there, the better off for the reef."
Mr Young said that these were the sorts of issues Belize's eco-tourism stakeholders were closely monitoring, and that data collected by surveys such as the Caitlin Seaview Survey and the recent Google/ Wildlife Conservation Society turtle project were invaluable in helping to influence public and private sector policies.
According to the organisation's website, The Catlin Seaview Survey began in September 2012 with a survey of 32 reefs along the entire length of Australia's Great Barrier Reef , recording a total 150km of reef and capturing 105,000, panoramic images with GPS coordinates.
The Catlin Seaview Survey is now in Belize surveying over 40 different sites across the entire 690 kilometres of the Mesoamerican Reef with a wide range of reef structures, environmental influences.
Mr Young said Chaa Creek, which offers tours and vacation packages to Belize's Caribbean coast and the Belize Great Barrier Reef has also sponsored a variety of research projects in its 365 acre private nature reserve and maintains a strong interest in environmental issues.
"In a small country such as Belize we're all very interdependent, and one thing we all have in common is a reliance on the health of our amazingly diverse and pristine ecosystem. Our environment truly is the lifeblood of the nation," Mr Young said.
The Lodge at Chaa Creek is an award winning eco resort set within a 365 acre private nature reserve in Belize.
ENDS