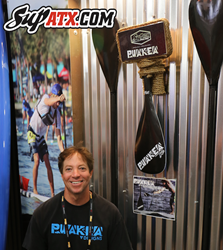 Austin, TX (PRWEB) August 12, 2013
SUP ATX is proud to introduce the Puakea Designs Stand Up Paddles, designed and tested by legendary paddler, Olympic coach and canoe builder, Johnny Puakea. The product launch serves as Puakea's first step into the world of SUP and a giant leap forward for stand up paddle design. SUP ATX will debut Puakea's new paddles internationally beginning the fall of this year.
Puakea's impact on the paddling community is nothing short of legendary. "Johnny Puakea is the Coach K of paddling sports," says Dana Point Outrigger Coach and SUP ATX Racing's elite paddler Tyson Poppler, referencing the winningest college basketball coach in history, Mike Krzyzewski. "Every thing he touches leads to better paddling." Although seldom recognized in standup paddling circles, Puakea has coached a number household names in the emerging sport, including several Molokai2Oahu and Battle of the Paddle champions.
In true SUP ATX fashion, the Puakea paddle will feature 100% carbon fiber construction; weighing less than 15-ounces and retailing for $325.00 or less. "It has always been the goal of SUP ATX to make stand up paddling accessible, both financially and logistically, to the every day paddler," says SUP ATX CEO Chris Dunn, "there is no reason why that goal cannot include top of the line equipment." The Puakea paddle will join the R1, R2 and ultra light 12-ounce Air Weight paddle in the SUP ATX Elite paddle line debuting this fall.
SUP ATX is the worlds #1 SUP paddle maker and retailer, allowing paddles made in the same factories as higher end brand-name manufacturers to retail at half the price. All stand up paddles feature the SUP ATX quality guarantee. For more information on the Puakea paddle or the SUP ATX Elite line of paddles, visit your local SUP ATX retailer or visit http://www.supatx.com for more information.
About SUP ATX:
SUP ATX is the #1 Stand Up Paddle Board Maker on Earth! Founded in 2009, SUP ATX designs, develops and manufacturers SUPs for oceans, lakes and rivers worldwide. The SUP ATX line of SUPs have defined and revolutionized the SUP industry worldwide, officially moving the sport from the shores of Hawaii and Malibu to lakes, rivers and surfing areas everywhere. Quality, customer service, and value are SUP ATX's principles in delivering the best SUPs in the marketplace. Visit: http://www.SUPATX.com/ or call 1-866-4-SUPATX to learn more.