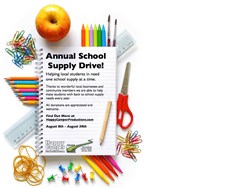 Community support is an important part of our Richmond web design business - we try to give back whenever we can.
Richmond, VA (PRWEB) August 12, 2013
As the fall school semester nears, Little Big Business Solutions is happy to announce its participation in the annual School Supply Drive sponsored by Happy Camper Productions, a non-profit organization in Richmond, VA.
The school supply drive will allow this Richmond area company the opportunity to encourage clients, colleagues, and local business partners to bring in school supplies to its office in Midlothian, VA. The collection continues through the month of August and will conclude on August 30th. School supplies collected during the event will go to the local school system to be distributed to students in need.
Little Big Business Solutions is a Richmond web design business offering brand development, lead generation, and business development services. As a provider of marketing services in Richmond, VA, Little Big Business Solutions works with companies new to the market, growing in their market, or expanding into new markets.