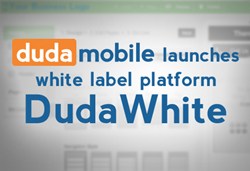 Today we are allowing agencies and web developers around the world to harness the same cutting edge technology under their own brand. - Itai Sadan, co-founder and CEO of DudaMobile
Palo Alto, CA (PRWEB) August 12, 2013
DudaMobile, the leading do-it-yourself mobile website builder, announced today a fully customizable white label product: DudaWhite. The newly revamped partner platform enables digital agencies, web designers and developers across the globe to create and manage multiple mobile websites for their clients. Partners are able to add their own branding to Duda's award-winning site editor, helping their clients transition to the mobile web with a plethora of sales and marketing tools that have already benefited thousands of satisfied resellers.
"DudaMobile started three years ago with a vision to help small businesses get a great looking mobile website," said Itai Sadan, co-founder and CEO of DudaMobile. "Today we are allowing agencies and web developers around the world to harness the same cutting edge technology under their own brand."
DudaWhite offers complete control of the industry-leading mobile website platform:

Award-winning one-click mobile site converter that partners can brand as their own
Advanced dashboard for partners, allowing full control over site creation & editor access
Branded end-user dashboard, supporting multiple site administrators or designers
Branded marketing, sales tools and client access
Preview pages to show a client their new mobile website on any smartphone or desktop
Customized editor domain and site domains
Other benefits of the Duda Partner Program include:

Priority Technical Support via phone, email and live chat
Expert tutorials and training with webinars, videos, whitepapers and more
Discounted partner pricing
DudaWhite is now available at $399 for an annual subscription. Full details and registration for DudaWhite is available exclusively by clicking here: Duda White Label Program
The First Look at DudaWhite webinar on Wednesday, August 14th at 11:00AM PT will walk through the new white label product and include a live Q&A. Space for the webinar is limited. To attend, register now at: https://www4.gotomeeting.com/register/242219311
Over the last year, membership in the Duda Partner Program is up nearly 500%, demonstrating that businesses are going mobile at a staggering rate.
With the launch of DudaWhite, partners now have two membership options:
1) DudaDesign, the original partner program that includes all the essential tools for building mobile websites for clients, for $199/year.
2) DudaWhite, which gives complete control to our partners, who can customize and offer the platform to users under their own brand. This includes the site editor, dashboard, emails and login screen, for $399/year.
"The rapid growth of our partner base proves that our resellers have done a phenomenal job of educating small businesses about the immense value of the mobile web," said Alan Keller, Chief Revenue Officer of DudaMobile. "DudaWhite now makes it easier than ever to offer SMBs a mobile web presence as a mobile website reseller, a business opportunity with tremendous return for both our partners and their clients."
For more details on both partner options, go here: Duda Partner Program
To download images, click here: DudaWhite PR assets
Social Networks:
LIKE DudaMobile on Facebook:
http://www.facebook.com/dudamobile
FOLLOW DudaMobile on Twitter:
http://www.twitter.com/dudamobile
About DudaMobile
DudaMobile is a do-it-yourself mobile website platform that gives small and medium-sized businesses a fast, simple and affordable way to build a mobile-friendly website. With a patented one-click conversion technology, DudaMobile makes it easy to convert any desktop website into a mobile optimized site in seconds. DudaMobile is widely used amongst agencies, designers, marketers and small businesses, as well as large enterprise partners including GoDaddy, AT&T, Yahoo, Google, Homestead and OpenTable. DudaMobile is based in Palo Alto, California and currently hosts five million mobile websites on its platform.