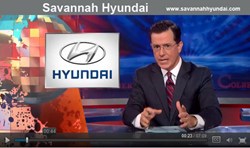 Savannah, GA (PRWEB) August 12, 2013
Cool is a major factor is selling cars. In August, Hyundai made some "Cool" points by sponsoring The Colbert Report's "Song of the Summer." In a city like Savannah, Georgia, Cool seems to be the way of life. Savannah Hyundai dealer, Mark Medinger, knows just how important the cool factor is to his drivers, "Cool is a factor in everything our drivers do, from fashion choices to the TV shows they watch and the car they drive. Hyundai is quickly becoming the Cool Car to have in Savannah."
Hyundai is the go-to brand for young professionals and hipsters alike. They have made smart bets on advertising, knowing exactly where and when the cool is going to happen. Just check out this video of The Colbert Report- sponsored by Hyundai, of course.
By partnering with the Emmy-nominated Colbert Report, Hyundai is marketing to its key demographic. Young professionals aged 18-45 are the Colbert Report's most likely audience, and these are exactly the kind of drivers Hyundai appeals to.
In the video, a panel of Hyundai 'executives' doesn't look amused when their sponsored "Song of the Summer" gets stood up by the band, due to a VMA performance. In true Stephen Colbert fashion, he elicits help from the likes of Jeff Bridges, Ashton Kutcher, Bryan Cranston, Matt Damon, and string of others to dance to Daft Punk's "Get Lucky." At the end of the video, the Hyundai "Executives" walk off, seemingly disappointed. What a great cross-promotional concept, all rolled into one! Hyundai is not only associated with one of the top shows on Comedy Central, it gets linked to tons of go-to Hipster celebrities. Bryan Cranston, as Walter White of AMC's Breaking Bad, is the hottest thing going right now. Fans across America are googling Bryan Cranston, everyday. Jeff Bridges will forever be "The Dude" to every Big Lebowski fan out there. And of course the band, Daft Punk, which is extremely popular again.
Hyundai's Cool Factor just keeps going up. With the uniquely designed Hyundai Veloster, a hatchback with three-doors, and their best-selling Hyundai Elantra, drivers all over the world are becoming die hard Hyundai drivers.
And why wouldn't America fall in love with Hyundai? They top the charts in Residual Value from the Auto Industry Authority. New Hyundais come with America's Best Warranty. Design and Safety are important parts of the Hyundai experience as well. Savannah Hyundai also offers weekly specials and military discounts that create even more value for the Hyundai buyer. According to Kelley Blue Book, the Hyundai Veloster is #1 in their top 10 list of Coolest Cars under $18,000. If looks like Cool and Hyundai will be linked together for quite awhile.