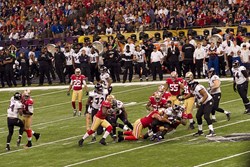 New York, NY (PRWEB) August 10, 2013
Cheap Concert Tickets announces that they have rolled back prices on all 2013 NFL Season Ticket Packages. The National Football League preseason has already begun which means those looking to get into regular season games with season tickets need to act fast before they lose their seats. Season tickets have been around for decades and have become something that is passed down between generations and something that creates lasting friendships in the section you were assigned. What do you need to know about the process?
History of Season Tickets
Season tickets have been an integral part of the sporting world for some time and have been taken to the next level with personal seat licenses (PSL). This program was originally brought into the NFL in 1993 by the Carolina Panthers when they were an expansion franchise. The Panthers used the money received from these PSL packages to fund the initial startup and construction of their stadium. Other teams have recently used money from PSL sales to fund their stadiums including the Dallas Cowboys, Chicago Bears and both teams from New York, the Giants and Jets.
Lengthiest Waiting List
No sports fan wants to let anyone stand between them and their favorite team, but in the case of those on the waiting list for the Green Bay Packers, there isn't much of a choice. The Packers reportedly have more than 105,000 names on their waiting list. The approximate time for number 105,000 to get into their seats has been rounded up to 1,167 years.
The Giants also reportedly have a waiting list of more than 100,000 names and several other franchises like the Pittsburgh Steelers, Philadelphia Eagles, Denver Broncos and both New York teams also have long waits.
Teams with Available Season Ticket Packages
While there are several teams that don't have any availability for season ticket purchases now or in the immediate future, there are plenty of successful teams that feature a short wait or no wait at all to get in.

The Bengals have a stellar young group of players that will allow them to be successful for years to come. Led by quarterback Andy Dalton, wide receiver A.J. Green and running back BenJarvus Green-Ellis, Cincinnati will hope to keep up with the rest of the AFC North.
When Peyton Manning called Indy home, there was a lengthy waiting list to get season tickets. When Peyton left, many of the season ticket holders did as well, leaving no waiting list at all for last season. With Andrew Luck, some of those tickets may have been purchased already, but with the second coming at quarterback now, you may be looking at a long list if you wait any longer to sign up.
The defending Super Bowl Champions feature one of the smaller waiting lists in the NFL today. While their roster may have turned over a bit since their Super Bowl win, they still have talent and can compete with any team in the league and their wait shouldn't be longer than a few years.
The Rams are the team to watch in the NFC. They may not win it all this year, but they have a lot of young talent just like the Bengals. With Sam Bradford, Tavon Austin and Daryl Richardson leading the offense, the Rams may have a chance to stay close to the San Francisco 49ers and Seattle Seahawks.
About CheapConcertTickets.me:
Cheap Concert Tickets delivers tickets to sold out concerts and events worldwide when no one else can, and they do so at discounted prices. As a member of TicketNetworkDirect, they can guarantee the delivery of NFL season ticket packages, concert tickets, theatre tickets and more. With CheapConcertTickets.me, customer service is a priority, for more information email support(at)cheapconcerttickets(dot)me.