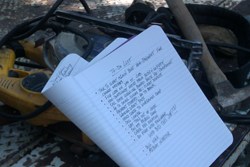 It won't change unless we change it
Los Angeles, California (PRWEB) August 11, 2013
Lee Dodson, owner of contractorside.com, announced today that the survey to find out status of men and women in the construction industry shows it has not improved in four years.
In an article in nationally recognized e-publication, The Brenner Brief, Dodson delivered disappointing results gathered in his new questionnaire. The construction industry is much worse off than anyone not in the industry can even imagine. While GNP numbers are up from 3% in 2009 to 8% (maybe) today, these figures are a far cry from the 24% to 27% of 2007 when business was not booming but healthy. There are few to speak in behalf of the men and women who work in the construction field.
In another admittedly unscientific survey, Dodson asked questions no one else asked, and the answers touched on everything from personal strategies such as changing careers and borrowing money to professional judgments as to business problems.
The preliminary results are enlightening. 39% are, or have, applying for food stamps, 100% say business is far off from six years ago. 40% are not optimistic about near term work, 60% struggle. 77% consider changing careers. 72% have taken supplementary menial jobs. 68% are on government assistance of one form or the other. 54% cannot qualify for credit. 89% borrow from family or friends to make ends meet. 88% cannot afford insurance, could not qualify for ACA (Obamacare).
On the business side of the equation, 20% think government can help reverse the down turn, but 81% think business can make it happen. Oddly, the trade views 65% believes government and its regulating agencies are to blame for industry woes, and trades people are specific when placing responsibility.
The contractorside.com survey went live less that a week ago. Dodson will release survey results in greater detail in two weeks.
"A distinct class of American worker is near a vanishing point, but these are tough people," Dodson said. "Given an opportunity, we will save the business by getting smart, adapting, and thinking ahead, but we need to develop tools that serve the business, that shares information on anyone who takes advantage of a poor economy to exploit the craftsman."
"The contractorside.com was developed to sustain the business by giving the trades a platform to comment, good or not-so-good, on anyone even remotely involved in construction. From clients to inspectors, architects, interior designers, the word has to get around as business intelligence, information as to how to deal with people or circumstances. If we do it for others, we can expect them to do it for us," Dodson offered. "It won't change unless we change it."
Dodson described the minimal registration fee as small enough to be easily affordable and enough to keep out trolls. "And it's totally fair. If you put in the email of the person on whom you are commenting, they get a query asking if they want to answer, or if you want to post anonymously, you can," he grinned. "If you're complimenting somebody, that auto e-mail is going to be impressive. Registration on the site is free."
Articles and other news items about the construction business appear on the site frequently along with ideas on business improvement. The contractorside.com actively invites comments and articles. As with paid comments, all contributions are edited and permitted by the website.
"The construction industry was never put on a 'Do Not Resuscitate' basis. If it's going to come back, we have to bring it back. Get smart, or get out of the way," Dodson says. "This is a way of life that is under pressure, but it's nothing compared to a penalty clause. The bonus clause is the rest of our lives."
Dodson spent forty-one years in the construction trade, has written many articles for trade magazines, has served as expert witness in court cases, and has acted as mediator in many construction related issues. He currently contributes to The Brenner Brief e-newspaper and has written and published two books, Infiltration, a fictional account of a terrorist attack in southern Arizona, and This Never Happened, a high desert murder mystery.
323-243-0404
vndk8r(at)gmail(dot)com
http://www.skoshitiger.com/
Twitter: skshtgr11