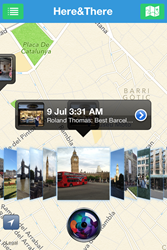 You'll never think the same way about where you are or where you are going. - Roland Thomas, Founder of Toroid Software
Melbourne, Australia (PRWEB) August 13, 2013
Here&There allows its users to share their current location, or a stored location, and to arrange to meet without relying on a street address. It can also be used to find the way back to an important or interesting spot whether it is a special café, a secret beach or just where they parked their car. Here&There can also be used to simply let someone know where they are. Here&There can be found on http://www.toroidsoftware.com or by searching for "Here&There" in Apple's App Store.
Here&There is the primary user application of the geo-location Ground Control platform. Its genesis was a broken down car on a country road and the need to communicate the location with family and roadside assistance. It demonstrated the opportunity to streamline the process for capturing and sharing your location. Locations can contain much more than just an address, they can now include GPS coordinates as well as information that gives context like a photograph. When packaged up, it can be shared using conventional communications methods, such as SMS, email or Facebook.
"We have changed the way you think about locations," said Roland Thomas, Toroid founder. "While this approach can incorporate the address into the location, it does not rely on it so it is equally effective in situations where no discernable address exists such as the beach, a park or a long country road. With all the facilities of a smart phone, we knew we could make it simple and effective."
With its initial application, Here&There provides the following features:

Incorporates native camera, GPS & mapping in one application
Locates you and packages photo, location and custom label/message
Shares via SMS, email or post on Facebook
Can be viewed in Here&There app or with browser
Can exchange messages
Stores all of your favorite locations
Here&There is the first in a series of apps based on the Ground Control Platform.
About Toroid
Toroid Software is an organization focused on mobile applications that provide real solutions for day to day situations. We believe that value is created by applications that are specific, streamlined and simple to use. You can learn more at http://www.toroidsoftware.com or contact us on info(at)toroidsoftware(dot)com.