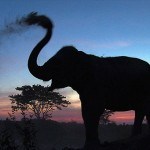 The more we learn of the true nature of non-human animals, especially those with complex brains and corresponding complex social behavior, the more ethical concerns are raised regarding their use in the service of man
Los Angeles, CA (PRWEB) August 12, 2013
Tim Gorski, award-winning director of documentaries How I Became an Elephant, and Lolita: Slave to Entertainment, is a featured panelist at the upcoming Animal Film Festival in Suncheon (ANFFIS) being held in Seoul, South Korea. He will be addressing issues surrounding the use of animals, including dolphins and elephants, in the entertainment industry as part of a panel discussion.
The plight of animals in zoos, circuses, movies, aquariums, and other entertainment uses has gained public attention in recent years amid great controversy. India had declared dolphins to be "non-human people" and yet dolphins continue to be exploited for human entertainment in aquariums. Whale Wars has brought the case of whale hunting forward to the general public, and documentary movies such as Blackfish and How I Became an Elephant have also increased public awareness of these issues.
As Jane Goodall said, "The more we learn of the true nature of non-human animals, especially those with complex brains and corresponding complex social behavior, the more ethical concerns are raised regarding their use in the service of man—whether this be in entertainment, as 'pets,' for food, in research laboratories, or any of the other uses to which we subject them."
Also joining the panel at ANNFIS will be Hwang Un, director of Farewell, and Song Ji Huen, the lawyer who has worked on many trial cases involving animal rights. Other films that will be discussed will be Life Size Memory, Blackfish, and Free Willy.
The panel will be moderated by Hyung Joo Lee, the leader of Korean Animal Welfare Association, and the whole session will be interpreted into Korean and English. The Festival runs from August 22nd through August 26th, 2013.
For more information on the film festival, visit: http://anffis.org
To watch How I Became an Elephant, visit the website to select download or ordering method: http://www.howibecameanelephant.com
For Lolita: Slave to Entertainment, download through Amazon: http://www.amazon.com/Lolita-Slave-to-Entertainment/dp/B001BSMMCO
About Rattle the Cage Productions
Rattle The Cage Productions is an award-winning video production group formed for one very important reason - to raise awareness about animal rights and environmental protection. Rattle the Cage writes, directs, and produces documentaries, commercials, and public service announcements concerning animal and environmental protection issues. As a registered non-profit 501(c)3 organization, Rattle the Cage is supported entirely by donations. For more information, contact: info(at)rattlethecage(dot)org.