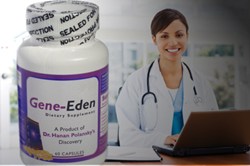 People with HIV need help. Gene-Eden-VIR naturally boosts the immune system against the latent herpes virus and was shown to be effective in a recent post marketing clinical study. - Mike Evans, polyDNA
Rochester, NY (PRWEB) August 12, 2013
People with HIV are at an increased risk of a genital herpes infection. In fact, the herpes virus "can cause serious problems for people living with HIV" according to WebMD (2). Just one of these problems includes herpes outbreaks filled with painful sores that can last a month or longer in some cases. polyDNA recommends that HIV infected individuals take Gene-Eden-VIR to boost their immune systems against the latent herpes virus.
Boosting the immune system against latent HSV is important because anti-HIV medications can actually cause a reactivation of the herpes virus. As researchers from Johns Hopkins University wrote, "There are reported cases of increased genital lesions immediately after antiretroviral therapy (ART) initiation (1)."
When the herpes virus reactivates in a person with a severely weakened immune system, the herpes outbreak can be longer-lasting, more frequent, and more severe. This is "because a weakened immune system can't keep the herpes virus under control as well as a healthy immune system can. (2)"
The study found that in HIV patients that began ART, "the frequency of HSV-2 shedding significantly increased during the first 3 months after initiation of placebo or acyclovir therapy (1)." In addition, "both men and women had significantly higher numbers of symptomatic GUD (Genital Ulcer Disease) episodes during the 3-month period after ART initiation. This is the first study to demonstrate that ART initiation is associated with HSV-2 reactivation and symptomatic GUD (1)."
"People with HIV need help. Gene-Eden-VIR naturally boosts the immune system against the latent herpes virus and was shown to be effective in a recent post marketing clinical study. People that want a natural remedy against the latent herpes virus should talk to their doctors about Gene-Eden." – Mike Evans, polyDNA
polyDNA recommends that people who have a genital herpes infection take Gene-Eden-VIR to help boost the immune system against the numbers of latent virus in the system.
Gene-Eden-VIR is designed to fight against the latent herpes virus. A recent post marketing clinical study showed that Gene-Eden-VIR is safe and effective. Up to 70% of those studied reported a decrease in viral symptoms. (3)
Each ingredient of Gene-Eden-VIR was chosen through a scientific approach. Scientists scanned thousands of scientific and medical papers published in various medical and scientific journals around the world to identify the safest, most effective natural ingredients that target the latent form of HSV. (4)
To learn more about Gene-Eden-VIR, visit http://www.gene-eden-kill-virus.com. All orders of Gene-Eden-VIR are completely confidential, and no information is shared or sold to any third party. Privacy is assured.
References:
(1) http://www.ncbi.nlm.nih.gov/pubmed/23812240
(2) http://www.webmd.com/genital-herpes/guide/risk-hiv
(3) cbcd.net/Gene-Eden-VIR-Clinical-Study.php
(4) buygeneeden.com/studies.php
polyDNA is a biotechnology company that develops dietary supplements using the unique scientific method developed by Dr. Hanan Polansky, which is based on Computer Intuition.
In addition to his unique scientific method, Dr. Polansky published the highly acclaimed scientific discovery, called Microcompetition with Foreign DNA. The discovery explains how foreign DNA fragments, and specifically, DNA of latent viruses, cause most major diseases.
polyDNA developed Gene-Eden-VIR , an antiviral natural remedy that helps the immune system kill latent viruses.