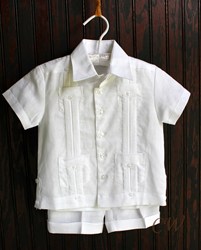 I can't imagine it not being available when you need it. - Dania Irvin, owner, Christening Wardrobe.
Tallahassee, FL (PRWEB) August 13, 2013
The search is over. People searching for Guayaberas for their children can now find them just a click away! Christening Wardrobe announces their new line of Guayaberas available in children's sizes from 3 months to boys' 16.
The Guayabera (pronounced gwa-ya-ber-ah), is a traditional dress shirt worn by men in the Caribbean and South America. Sometimes known as a Mexican Wedding Shirt, it is typically worn on special occasions such as weddings and other family gatherings. It is worn proudly as a way to pay respect to the culture of the area and heritage of the family. The Guayabera is usually made of linen or cotton and is light and comfortable in warm weather. No one knows for sure the origin of the Guayabera. It is believed it originated in Cuba but some say it may have been created in Mexico or even Spain.
Guayaberas for children are tiny replicas of the traditional shirt. Families will dress their boys in the shirt if they can be fortunate enough to find them. Using a Guayabera for a baptism is the ultimate display of respect and tradition. The owners at Christening Wardrobe introduced the Guayabera shirt for those looking for the traditional garment for their little boys. "We noticed a real interest in the Guayaberas for baptisms," said Dania Irvin, owner. "I grew up in Miami where Guayaberas were common at every special occasion. I can't imagine it not being available when you need it." The company has received a great response from customers all around the world. Their most popular item is the Julio Guayabera shirt which can also be purchased as a shirt and shorts set.
Christening Wardrobe, based in Tallahassee, Florida, sells gowns and complete outfits for baptisms, christenings, dedications and other special occasions for boys and girls. And now they are the largest online retailer of Guayaberas for children. They even offer infant sizes and Guayaberas in little girl styles including dresses and rompers. Christening Wardrobe was created by husband and wife Jim and Dania Irvin in 2010. Their vision is to provide Christening Outfits and Accessories in a wide range of styles from traditional to modern. The company prides itself in excellent customer service and personal assistance with selecting matching accessories. They offer quick shipping and free shipping on orders over $100.
For more information about the Guayaberas or other styles of baptism clothing for boys and girls, visit their website ChristeningWardrobe.com.