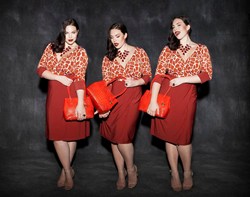 Bold is the new black. We wanted to create a vision of a woman unapologetic about her passions and curves. The type of woman that can be found in the dreamlike films of Federico Fellini
San Francisco, CA (PRWEB) August 13, 2013
Award-winning IGIGI by Yuliya Raquel has released the Intro to Fall collection available now at http://www.igigi.com. Themes of romanticism, unapologetic obsession, and subversive femininity take life in rich textures of opulent and bold prints drenched in color and lavish embellishments throughout the collection. Elegant and glamorous dresses and separates display the brand's signature vintage vibe mixed with modern femininity while new plays of peplum, keyhole necklines, exaggerated obi style waistbands, and slanted mesh hems provide fresh details to devour. Intro to Fall designs exude sexy with subtle shows of skin and sumptuous emphasis on techniques to accentuate and highlight curves. Prices range is $62-$275
"Bold is the new black. We wanted to create a vision of a woman unapologetic about her passions and curves. The colors and textures are a reflection of her life. She pursues the things that matter to her free of societal restraints. The type of woman that can be found in the dreamlike films of Federico Fellini" said the IGIGI by Yuliya Raquel Design Team.
New Zealand native Georgia Pratt of MUSE Model Management graces the Intro to Fall campaign shot in studio by world-renowned photographer Mark de Paola.
Headquartered in San Francisco, CA, IGIGI by Yuliya Raquel was founded in 2000 with a mission to transform the world's view of beauty by providing full-figured women with fashion-forward, quality, and well-fitting clothes that would help express their beauty. Collections are designed in-house and produced locally through independent San Francisco Bay Area contractors. IGIGI by Yuliya Raquel has been featured in major fashion and life style magazines including In Style, Marie Claire, The Oprah Magazine, People StyleWatch, Ladies' Home Journal, Glamour, and Essence, and it has been a favorite among curvy celebrities like Kim Coles, KayCee Stroh, Jill Scott, Kelly Price, Ashley Fink, Martha Wash, and Gabourey Sidibe. IGIGI by Yuliya Raquel collections are available online at http://www.igigi.com and select boutiques worldwide. IGIGI by Yuliya Raquel was honored with the Best Plus Fashion Retailer of the Year award (Full Figured Fashion Week, June, 2010), and made Internet Retailer's Top Hot 100 list (December, 2010), and received About.com Critics' Choice Best Plus Designer Award (March, 2011).