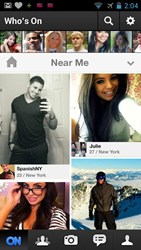 Miami, FL (PRWEB) August 13, 2013
Visual social networking and people discovery startup ON.com spent a little over a year in beta, and launches publicly today with over 150,000 active users from all over the world. ON.com takes meeting people online to a whole new level, providing users a fun and new way to express themselves and discover friends or matches, through photos & filters.
A place for meeting, dating, chatting, or just sharing photos with new friends, the concept was designed by a group of young entrepreneurs so that people might more easily connect via imagery and community.
ON.com is hassle-free and fun, easy to access from any device, and even easier to use. Image-centric, the app offers users an opportunity to share daily moments in pictures, to swipe through photos by others, to like and to comment on them, and finally, to connect and chat with other users and even interesting potential matches.
With images at its core, ON.com streams new photos and new users in real time, giving its active users a fresh experience each time they log in.
The app goes beyond simply uploading photos with a desktop camera or a smart device: it allows users to make a picture stand out by applying one of 18 custom filters, adding captions with #hashtags, and location, and sharing it via Facebook, Twitter or Tumblr.
To make the experience even richer, the app allows users to send private messages and private pictures to other users, to see who's online in the neighborhood with one-click, and to set special filters on who they want to chat with.
In a nutshell, ON.com key features include:
-Beautiful photo discovery dashboard, like Instagram or Pinterest
-The ability to customize pictures with filters, captions and location
-Share personal photos outside the ON.com network, on Facebook, Twitter and Tumblr
-Search, follow and communicate with interesting people and matches, by age, popularity, location, zodiac sign and even "online now" status
-Like and comment on ON.com users' photos from around the world subject to users' privacy settings
-Send private photos and chat with other users, and much more.
Based in Miami, Florida, ON.com is a privately-owned visual social network, dating platform and people discovery search engine. The company was founded in June 2012, by Marcos Santacruz, Dan Sherman, Reed Smith, and Kevin Deegan.
Users can access ON.com online, access the Facebook app through Facebook, download the iOs app on iTunes, and download the Android app via Google Play.