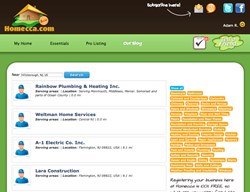 If you're a good home repair and maintenance company, register on Homecca.com today to start receiving job leads. It's 100% Free!
Hillsborough, NJ (PRWEB) August 13, 2013
Homecca.com, a home maintenance and repair website, has added a "Quote from a Pro" feature that allows homeowners to locate contractors for their projects.
Homeowners are concerned with finding reliable professionals, and many of them experience problems after hiring someone "blind" from typical directories. Homecca aims to help homeowners find the right maintenance and repair professionals for whatever jobs they may have in a quick and easy way. A simple web page with optional photos allow the user to describes what area of the house needs repair or maintenance.
Once done, Homecca invites registered Professionals who match the category to examine the job details and get in touch with the homeowner if interested.
In other words, Homecca will send the job leads in a convenient way while presenting the Pro with a comprehensive dashboard where he/she can keep track of the jobs. When the job is finished, the homeowner provide the rating and comments. This is to ensure the best companies get the most business sent their way.
Professionals who would like to be listed at no cost on Homecca.com can now self-register. Once listed on Homecca, the company will be visible to all Homecca users. Pro registration is free and hassle-free. A single form where professionals list their areas of expertise with company description and optional photos is all that's needed to start receiving new job notifications. The homeowners can then contact the professionals directly or using a 'Quote from a Pro' feature.
Homecca membership is free and the founders hope to help the homeowners maintain and repair their homes easily by providing the local professional listing as well as a scheduling tool, record-keeping function, and links to instructional videos.
Homecca also features a blog authored by experienced contractors that gives tips on finding the right contractor, contractor danger signs, dealing with contractors, remodeling and budget, etc., and allows homeowners to ask questions.
By adding the contractor listing to an already mature maintenance management tool, Homecca has become a comprehensive and universal solution most homeowners find useful. "We want to show folks what type of home maintenance is worth doing, how it should be done, let them ask questions, and now provide help in finding professionals... There are other websites that do similar things, but we have not yet seen one that does it all; Homecca is here to change that," the founders say.
Home Maintenance and Repair for Every Homeowner
http://www.Homecca.com (Homecca LLC)
Contact(at)homecca(dot)com, 732-887-3358 Twitter: @Homecca Facebook: http://www.facebook.com/Homecca