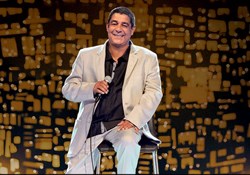 Las Vegas, NV (PRWEB) August 11, 2013
Grammy Award-Winning Brazilian Singer Zeca Pagodinho to Perform at Wynn Hotel and Casino in Las Vegas on Saturday Sept. 7 , 2013 for Brazilian Independence Celebration.
Honoring Brazilian Independence Day, singing sensation Zeca Pagodinho will perform a special concert inside Encore Theater at Wynn Hotel and Casino in Las Vegas on Saturday, Sept. 7 at 9 p.m. Pagodinho will take guests on a journey through his greatest hits and samba classics from his new DVD "Zeca Pagodinho—30 anos—Vida que Segue."
The acclaimed singer is one of the most popular and important Brazilian performers. Pagodinho has sold millions of records and has won four Grammy Awards.
Additionally, his song "Deixa a Vida Me Levar" was featured on the 2002 World Cup soundtrack. Other hit songs include "Camarão que Dorme a Onda Leva," "Samba Pras Moças," "O Dono da Dor," "Brincadeira Tem Hora," "Vou Botar Teu Nome na Macumba" and "Caviar."
Tickets are $75, $175 and $250 including tax and service charge.
Tickets are available by exclusive line and special code for Brazilian and International Community, Family and Friends.
Call: 702-770-1000 and mention code "MARIO" for best designated tickets and seating.
The Encore Theater offers a uniquely intimate experience for every ticket holder. The theater was designed to accommodate acclaimed headliners and features a state-of-the-art sound and lighting system.