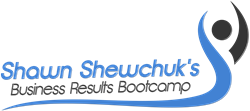 It's all about the results!
Calgary, Alberta (PRWEB) August 12, 2013
Entrepreneurs are fighting to survive in an environment where most businesses fail within the first five years of start-up. The only difference between the 10% who make it and the 90% who do not is the effectiveness of their marketing. Businesses and their owners are struggling to survive. Entrepreneurs who refuse to implement innovative marketing strategies will be those who see their businesses die and remain behind, wondering why.
A wave of opportunity has followed in the wake of a post-recession economy but only for brave entrepreneurs and business professionals who are willing to take a chance. The payoff is huge for the entrepreneurs willing to take some risk. The only difference between those who make it and those who do not is the way they market their business.
More than 40 entrepreneurs and business owners attended The Business Results Bootcamp held in Calgary, AB in July. Everyone attending learned how Marketing Innovation can be applied to their business and the secrets of the most successful entrepreneurs:

Branding is more important then product.
Marketing Automation.
Avoid 'Business by Default'.
Become the authority instead of the expert.
"The Business Results Bootcamp in Calgary gave me that one ingredient that is missing in my business and will mean the difference between becoming successful or becoming a statistic," said Stacy Richter, PinPoint Strategies.
The Business Results Bootcamp event in Calgary featured accomplished entrepreneurs and coaches including the 2012 winner of the Canadian Real Estate Wealth Maganazine's Joint Venture Partner of the Year Stefan Aarnio, bestselling author and speaker Frank Moffatt and recording artists Like Strangers (formerly The Moffatts).
"This bootcamp was all about giving entrepreneurs what they need to build successful businesses," said Shawn Shewchuk, #1 results coach in the country and author of the best seller Change Your Mind; Change Your Results. "The two day bootcamp was more than attendees listening to speakers and taking notes. We provided activities where attendees worked with each other to demonstrate the concepts and create actionable blueprints they can implement immediately to successfully market their businesses."
The Business Results Bootcamp was hosted at the Deerfoot Meadows Sandman, Calgary AB. on July 20-21, 2013. Future bootcamp dates and locations are to be announced. Additional event information can be found at http://www.businessresultsbootcamp.com .