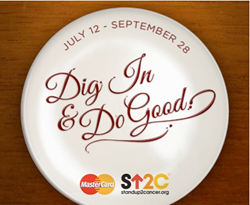 We are excited to work with the Rewards Network team to raise awareness about this program and this great cause.
Chicago, IL (PRWEB) August 13, 2013
Rewards Network, a leading provider of marketing services and dining rewards programs, has partnered with MasterCard to support their Dig In & Do Good campaign benefiting Stand Up To Cancer. From now through September 28, 2013, when MasterCard cardholders spend $10 or more when dining out or ordering in using their card, MasterCard will donate up to $4 million to Stand Up To Cancer, one precious cent at time.
This campaign makes it easy for consumers to get involved by doing what they already do on a regular basis: dining out. A donation will automatically be made to Stand Up To Cancer by MasterCard when consumers dine out across the country using their MasterCard cards.
"We are excited to work with the Rewards Network team to raise awareness about this program and this great cause," said Cheryl Guerin, Group Executive U.S. Marketing, MasterCard. "Placing point of sale materials in Rewards Network restaurants is a perfect way to expand consumer awareness of the Dig In & Do Good initiative. We want consumers to know they can contribute to a worthwhile cause just by using their MasterCard card, and it's a great way for restaurants to help the cause, as well. The faster we get to $4 million, the better."
"We are pleased to be supporting MasterCard and their quest to donate $4 million to Stand Up To Cancer. Our Network of restaurants provides a perfect outlet to help spread the word about this program," stated Megan Flynn, SVP of Loyalty and Business Development at Rewards Network. "Our team is in market providing promotional materials for restaurants, furthering awareness when diners are at the point of sale. We're honored to help support this tremendous initiative."
*Certain terms and conditions apply: From July 12 – September 28, 2013, MasterCard will donate up to up to $4 million to Stand Up To Cancer. $.01 per qualifying restaurant transactions of $10 or more and $.02 for each MasterCard PayPass transaction made at a PayPass enabled restaurant. The promotion applies to U.S. qualifying restaurant purchases made by MasterCard consumer and small business cardholders with MasterCard cards issued by U.S. financial institutions. Stand Up To Cancer is a program of the Entertainment Industry Foundation (EIF), a 501(c)3 tax-exempt organization. EIF meets all 20 BBB Charity Standards. Stand Up To Cancer and the Stand Up To Cancer Brand Mark are registered trademarks of the Entertainment Industry Foundation.
MasterCard, the MasterCard Brand Mark, PayPass and Priceless are registered trademarks and Dig In & Do Good is a trademark of MasterCard International Incorporated. ©2013 MasterCard.
About Rewards Network
Rewards Network is a results-driven, measurable marketing program that helps restaurants fill more tables and build a loyal customer base. Rewards Network provides access to over 3.2 million passionate diners, driving new and repeat visits by offering rewards such as airline miles, hotel points, charitable contributions and more. The company promotes restaurants to diners via web, email, social media, and mobile marketing, and also provides valuable customer feedback and performance tracking to help restaurants improve service and increase profits. Learn more about how Rewards Network can help give you a competitive edge.
About MasterCard
MasterCard, http://www.mastercard.com, is a technology company in the global payments industry. We operate the world's fastest payments processing network, connecting consumers, financial institutions, merchants, governments and businesses in more than 210 countries and territories. MasterCard's products and solutions make everyday commerce activities – such as shopping, traveling, running a business and managing finances – easier, more secure and more efficient for everyone. Follow us on Twitter @MasterCardNews, join the discussion on the Cashless Conversations Blog and subscribe for the latest news.
About Stand Up To Cancer
Stand Up To Cancer (SU2C), a program of the Entertainment Industry Foundation (EIF), a 501(c)(3) charitable organization, was established in 2008 by film and media leaders who utilize the industry's resources to engage the public in supporting a new, collaborative model of cancer research, and to increase awareness about progress being made in the fight against the disease. SU2C raises funds to accelerate the pace of research that will get new therapies to patients quickly and save lives now. As SU2C's scientific partner, the American Association for Cancer Research (AACR) and a Scientific Advisory Committee led by Nobel Laureate Phillip A. Sharp, Ph.D., conduct rigorous, competitive review processes to identify the best research proposals to recommend for funding, oversee grants administration, and provide expert review of research progress.
Current members of the SU2C Council of Founders and Advisors (CFA) include Talk Show Host, Journalist and well-known Cancer Advocate Katie Couric; Sherry Lansing, Chairperson of the Entertainment Industry Foundation's Board of Directors and Founder of the Sherry Lansing Foundation; EIF President and CEO Lisa Paulsen; EIF Senior Vice President Kathleen Lobb; Rusty Robertson and Sue Schwartz of the Robertson Schwartz Agency; Pamela Oas Williams, President of Laura Ziskin Productions and Executive Producer of Stand Up To Cancer's In-house Production Team, and Nonprofit Executive Ellen Ziffren. All current members of the CFA were co-producers of the 2012 televised special. The late co-founder Laura Ziskin executive produced both the Sept. 5, 2008, and Sept. 10, 2010, broadcasts. SU2C was formally launched on May 27, 2008. Sung Poblete, Ph.D., R.N., has served as SU2C's president and CEO since 2011.
###
Contact:
For MasterCard / Dig In & Do Good
Sarah Ely
(914) 249-6714
For Rewards Network
Megan Flynn
SVP, Loyalty and Business Development
(312) 521-6742