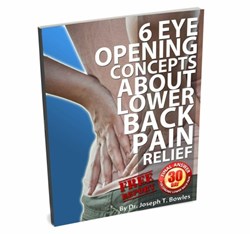 Austin, TX (PRWEB) August 13, 2013
Discussing his recently released report entitled "6 Eye Opening Concepts About Lower Back Pain Relief," Dr. Joseph Bowles shared his thoughts regarding what he believes are very often, 'simply unnecessary, ineffective and dangerous' procedures that are too often prescribed for chronic, lower back pain patients.
The report is available free at: http://www.DrBowlesBackPainSolution.com
"As a person, I detest being negative or harsh toward other people. However, in the field of spine surgery and pharmacologic treatment, the behavior of doctors is beginning to border that of being criminal," said Dr. Bowles in a recent interview. "For years, the leadership of the medical profession has pleaded with doctors to take a considerably more conservative approach to helping those with chronic, lower back pain."
He adds, "Unfortunately, those urgings have fallen on deaf ears. When back pain strikes, too many hardworking, hopeful American people end up taking addictive narcotic medications – or even worse, they end up in a vicious cycle of medical care that leads to and from the operating room – for problems that can be successfully managed conservatively in the overwhelming majority of cases."
According to Dr. Bowles, the warnings from the leadership within the surgical community have been repeatedly unheeded over the years by rank and file doctors.
He cites the late Hubert L. Rosomoff MD, professor and Chairman Emeritus in the department of neurological surgery and professor in the departments of anesthesiology and orthopedics and rehabilitation at the University of Miami. Dr. Rosomoff stated, "The incidence of surgery, if one really looks at this appropriately, is one in 500."
During an American Academy of Pain Medicine (AAPM) 17th annual meeting in Miami Beach, Florida in 2001, Dr. Rosomoff called an immediate moratorium on all lumbar spine surgeries for non-life threatening conditions. Yet the rate of those with lower back pain having surgery continued to grow. Today, America has a rate of surgery 40 times that of the rest of the world.
Also on the panel in 2001 was Lynn Johnson, MD, who served as the moderator for the AAPM session. Dr. Johnson is board certified in anesthesia and pain medicine and at the time was director of the Center for Pain Medicine of North Carolina, which is affiliated with East Carolina University School of Medicine in Greenville, North Carolina.
Dr. Bowles new report is available free at: http://www.DrBowlesBackPainSolution.com
One of his many concerns were voiced when he stated, "There is a lot of misunderstanding about what causes back pain at the outset, prior to surgery. Moreover, once they have had surgery and don't do well, there are continued problems in not only diagnosis but management of the problem."
It is also Dr. Johnson's opinion that there are entirely too many surgeries being done. He said that in some cases doctors fail to suggest conservative measures.
He went on to state, "Just about any approach is better than having surgery because all the studies have shown that, if you take a surgical population and nonsurgical population, they all seem do the same in five years," he said.
Following up on Dr. Johnson's comments, Dr. Bowles went on to add that, "The comments I've noted here are but a few among many others. What needs to be shared with many more people is, surgeons and doctors are too quick and too long with the prescription pad. If what they were doing actually worked, there would not be these repeated calls to stop. However, the rate of surgery and narcotic treatment just continues to escalate. There is a growing nation of lower back cripples that populate the so-called 'pain specialist clinics' of America."
He added, "As the self-appointed guardians of the publics collective lower back health, the surgeons and 'pain specialists' have horribly failed in the past and continue to do so now. It's simply because they are not treating the real source of chronic lower back pain, and have been doing so by using dangerous, expensive means.
In conclusion, Dr. Bowles said, "There are far safer and effective methods that give relief for ongoing pain than surgery and narcotic medication. These are available to people worldwide. However, it's very difficult for the person in pain to hear the safer, more effective method message above the voice of the pharmaceutical and spine surgery industry."
For over 30 years as a chiropractic physician, chiropractic-college faculty member and post-graduate lecturer, Dr. Joseph Bowles has had a reputation for advancing new ideas and methods of patient care. His motto is "be effective and above all else…do no harm while you're at it."
This report and Dr. Bowles' other groundbreaking materials are made available as a source of information to provide hope and relief to chronic, lower-back pain sufferers after other methods have fallen short or failed.
Dr. Bowles new report is available free at: http://www.DrBowlesBackPainSolution.com